3 things in White Gold that are no longer true in the glazing industry (and 3 things that are)
Those with an itchy trigger finger for channel surfing and interest in the double glazing industry will no doubt have by now come across the BBC's new 1980s set sitcom White Gold. A six-episode comedy from the creator of The Inbetweeners, the satirical show this time swaps out sixth-form hijinks for seedy showroom mischief.
Described by the BBC as "a story of dodgy shenanigans, scams and petty rivalries – alongside free-flowing drugs, cash and sex", it's obvious that some creative liberties have been take with certain facets and the truth has been exponentially bent in favour of humour. So, to help better separate the contemporary fact from the historical fiction, here are 3 things in White Gold that are no longer true in the glazing industry:
1. Showrooms are the size of a cardboard box
Centred around fictitious high street based double glazing company Cachet Windows, it's fair to say that this particular installer isn't blessed with space. It's for this reason that the showroom utilised by geezerish salesman Vincent Swan is very narrow and therefore limited in the number of windows and doors they can display. In actual fact, many contemporary showrooms appear near-endless with regards to square footage, making any visitors spoilt for choice.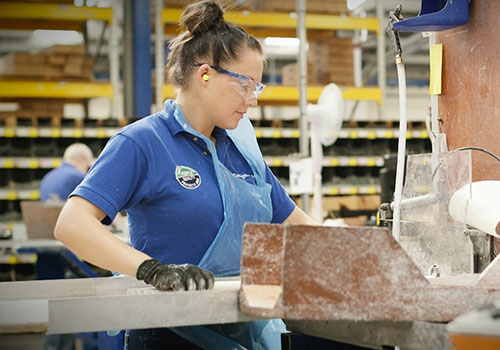 2. 600% mark up on uPVC windows
"This is what we sell" broadcasts Vincent in White Gold's initial BBC Two trailer, "the dirt cheap white plastic bits that go around your windows, sold to you with a mark-up of 600%". 600%? Just imagine. With profit margins that high, surely everybody would be giving up their day job in favour of working in the double glazing industry.
Safe to say that even in the 80s this wouldn't have been true, with uPVC windows nowadays having come on leaps and bounds in terms of quality, affordability, and lifespan. For reasons such as this, companies in the industry are able to maintain growth and stay successful, only with more reasonable price mark-ups.
3. Salesmen are like vampires
While it's an admittedly inventive notion that salesmen are similar to vampires in the sense that they need to be invited in, believe it or not the majority actively distance themselves from "cowboy" aspects such as this, in favour of building trust with customers. It shouldn't come as a surprise that reliability and honesty works better in terms of spreading the word and securing repeat business. Think less Wolf of Wall Street, and more Trusted Trader.
Bonus round – 3 things in White Gold that still ring true
1. Some double glazing salesmen get their own company car
Though utilised less as a way of inflating ego as portrayed in the show and more as a way of facilitating more business, it's not uncommon for double glazing salesmen to have a company car. Whether used to reach potential clients located far and wide from their main base of operation or as a means of demoing products on the road, company cars are a valuable sales tool for more right reasons than wrong.
2. Installers still can't settle on "uPVC" or "PVCu"
While White Gold sees James Buckley's deceitful salesman imply that the terms "uPVC" and "PVCu" refer to entirely different window materials, we like to think of this as a cheeky slight to the fact that modern installers frequently allude to both. One doesn't take precedence over the other, and while there is no agreed upon rule, "PVCu" is most commonly used for B2B purposes.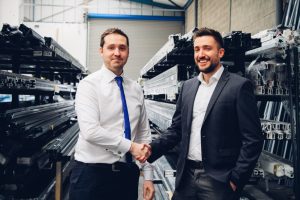 3. Business meetings are likely to happen over a pub lunch
As the saying goes, you have to enjoy the simple things in life. And therefore it's not uncommon for double glazing salesmen or any firm really to conduct business over the British food staple, also known as the pub lunch. A far cry from the smoke-filled parlours portrayed in White Gold, any Hungry Horse or Harvester will do just the trick.
Separate fact from fiction with Purplex
A dedicated team of 60 specialising in marketing services for the home improvement industry, while we think it's extremely clear that White Gold by no means reflects on the kinds of double glazing practices conducted in the real world today, Purplex can still help successfully communicate your message and separate the fact from the fiction.
Whether via tactical content marketing, a new website, or PR and communication services, we can help you implement effective marketing strategies to help better acquire leads and enjoy steady company growth. Contact us online here or call our Bristol office on 01934 808 132.