Back
Is your business mobile marketing ready?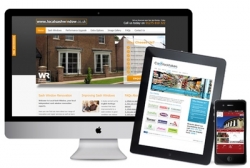 Your alarm clock goes off and you lean over to hit the snooze button. These days, of course, your alarm clock is your mobile phone. So as you grab your phone, you instinctively check your emails, your Facebook updates and your Twitter feed. By the time you've woken up, you're already connected to a fast-paced world.
Smartphones and mobile devices are now intrinsic to our lives. One billion people use their mobile for accessing email, and according to the International Data Corporation (IDC) the sale of tablet computers such as iPads will overtake laptops this year, and outpace the entire PC market (laptop and desktop) by 2015.
The mobile landscape is changing the way individuals engage with friends, colleagues, customers, suppliers and brands. In short, mobile is creating a marketing revolution.
Website design for mobile devices
With 53% of internet search traffic now on a mobile device, having a website that is not optimised for mobile costs your business money, cuts the number of enquiries, and damages your reputation. Nobody wants to visit a website that doesn't view properly or is difficult to navigate on their mobile.
There are two options when it comes to designing your website with mobile in mind. The first is to create a mobile specific website.  Browsers detect the device a visitor is using and then either displays the main website or the mobile website, depending on the device.
The second option is responsive web design.  In this case, your website is built in a way that enables the site to adjust to the device, changing the layout to suit.
There are arguments for and against each format.  Responsive design means creating just one website, but it can mean compromises on design, while having a separate mobile website means maintaining two sites.
Mobile users spend less time on a website than desktop users, so providing the key information quickly and easily is vital. For example, a mobile visitor may want bullet points, location details, opening times or an enquiry form, while a desktop visitor may want to research and browse information and download PDF documents.
Developing a mobile website strategy will pay dividends. Your website will attract more customers, generate more leads and position you ahead of your competitors, many of which still haven't recognised the power of mobile.
Email marketing for mobile devices
In the last three years email marketing has exploded. The return on investment is probably better than any other marketing channel, and with the right data, design and software the ability to build relationships and generate leads is unrivalled.
The growth of email using mobiles has changed email marketing. Nobody wants to zoom and scroll your full-size email design on their iPhone, or try to fill in an enquiry form designed for a desktop PC. Investing the time to build email marketing campaigns using mobile optimised design with dedicated mobile landing pages/enquiry forms can exponentially increase response and enquiry rates.  In one recent mobile optimised campaign for example, our client had 120 sales leads through their enquiry form within 24 hours, with a 'click to open' rate of 21% – unheard of in traditional email marketing.
The future of mobile marketing
Mobile devices are changing the way we live and work. Home and work life are converging and even large corporate organisations are rethinking their mobile phone strategy as staff don't want to carry two separate mobiles. Doing business is no longer confined to office hours.
Mobile opens up new opportunities never before available, such as geo-marketing, location-based services and mobile Apps. But it's easy to get it wrong. One major insurance company recently ran a national consumer advertising campaign using QR codes.  Consumers could scan the QR code using their mobile phone to get discount via a web page, but as the website wasn't mobile optimised visitors couldn't view it properly and the campaign flopped.
For those companies who embrace mobile marketing and get it right, the rewards are enormous. Now is not the time to wait and see, this marketing revolution is happening right now.
Purplex Marketing is a specialist mobile marketing agency from mobile optimised web design to mobile-specific email marketing, and incorporating mobile-specific tools some as geo-targeting and QR codes.  For more information contact Purplex or call 01934 808132 .
This entry was posted in Marketing Strategy