Back
How vital are positions 1 to 3 on Google?
In 2017, The Economist published a story titled, "The world's most valuable resource is no longer oil, but data." This is a provocative statement and has created a lot of debate. What is true is that we generate more data now than at any other point in human history. We also now have the computing power to be able to actually understand data in ways we never thought possible. That can only be a good thing.
At Purplex Marketing, we are experts in the fields in which we work. We have created several proprietary data sets over the years that we are now using to answer some exciting questions. One such problem is: how important are positions 1 to 3 on Google? In the 'good old' days' of search engine optimisation (SEO) some wild claims used to be made. An example might be 'we are now at position X on Google for keyword Y, and it has a huge impact'.
How useful is it to make claims like this? Well, to try and answer that question, we tried to take some of the data we have and pair it with some other useful data to try and make the ultimate SEO data set. We have the ranking, click and impression data of over 400 websites going back 18 months. We took a small sample of these websites and paired this up with some crawl data to build a dataset of about 4.5 million rows and 70 columns. All in, this dataset is around 300 million data points.
The sample we created covers around 30 websites going back over the past 6 months. We can use impressions and clicks to calculate organic click-through rate (CTR). When matched with the position, we can use this as a measure of how popular each position is on Google. Plotting all of this data on a graph can be insightful: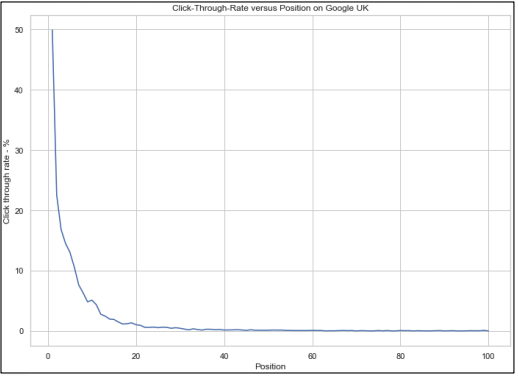 We can see that there is a very steep drop off in the CTR of the first 5 positions on Google UK. Looking at the numbers more closely, we see that: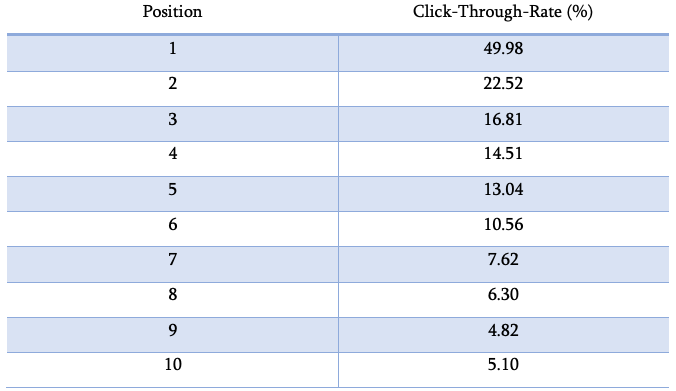 Observations:
There is a significant drop off in the number of clicks received even between positions one and two (55% drop off between the two)
Interestingly, this happens again from position two to position three, where we find another drop of 35% between the two
This continues, with any position outside of the top five getting 10% or less of the overall page one clicks


Caveats:

This data applies specifically to the building and fenestration industry in the UK as this where this data is from. This type of information is very sector-specific
The CTRs are a little bit high overall, especially when compared to other click-through-rate studies that have been done. This may be a quirk of the building and fenestration sector (as noted above), but it may also have something to do with the fact that we didn't separate out brand keywords and generic keywords (there were just under 5 million of them, so it wasn't practical to do so) and this may be introducing a skew; brand keywords generally get a high CTR than generics
This data assumes the 'old-style' layout of 10 listings to a page, which of course isn't right as now we have videos, maps, rich-snippets, knowledge-graph results and many other different types of search features
Next Steps:
Now that we have access to all of this data, it presents us with an excellent opportunity to answer many more exciting questions, such as:
How vital is Core Web Vitals? Everyone is talking about it in the search community at the moment, but is it possible to see its impact yet?
How vital are the long-standing SEO precepts of <title>s and META descriptions on rankings? Do they still have an effect, and if so, what does the data tell us what best practice should be?
Does pagespeed have an impact on rankings? Google says it does, but to how much of an extent is it essential in the Building and Fenestration sector?
Can we model Google? Is it possible to build a machine learning model to try and understand the impact different factors have on rankings? If so, what does it tell us?
It would be interesting to answer these questions and more. Watch this space!
This entry was posted in Purplex News