Back
The rising importance of social advertising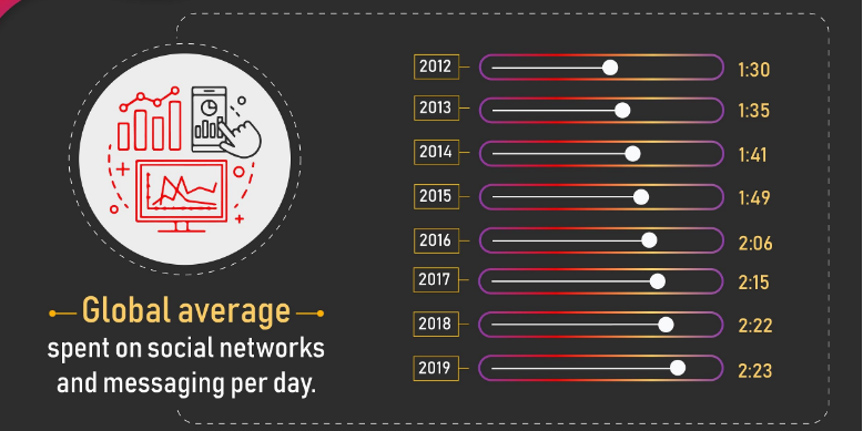 Over the last couple of years, we've seen the average time spent on social media apps rising by 45% since 2012.
The main reason for this? Popular platforms, such as Facebook, aiming to put the 'social' back into 'social media' by prioritising content from friends and family over pages and company profiles.
From 2012 to 2019 the average time on social media has increased from 1h30mins to 2h23mins.
After the latest algorithm updates, social advertising has become even more of an essential element of our social media marketing strategy. By the end of 2019 it was reported that advertisers had spent $84 billion on social ads worldwide. Luckily, individual advertising doesn't call for such extreme budgets.  A little can go a long way with great return. Advanced targeting allows advertisers to identify and locate their ideal consumer and, as consumers become more comfortable with making enquiries and purchases via social media, these ads are seeing increased conversion rates.
Is the social media market saturated?
If you think the social media advertising market sounds too saturated and increasingly competitive, fear not! Facebook has reported on economies of scale in 2019 with the average price of an ad decreasing by 6% while the overall impression rate increasing by 37% – a win-win for advertisers all round!
What to look out for in 2020?
What does 2020 have in store? If the developments made by Facebook, Instagram and even LinkedIn (finally) in 2019 are anything to go by, we should look forward to social media developing more to become the 'modern day shop front' with advertisers having new and exciting ad formats and a wider choice of ad placements to play with.
Tip – apply a mobile first approach. Make sure all ads are mobile friendly – 94% of ad revenue comes from mobile!
If you are looking to improve your social media strategy call Purplex on 01934 808132 or email grow@purplexmarketing.com
This entry was posted in Marketing Strategy