Back
Our top 3 Google organic trends in home improvements during Covid-19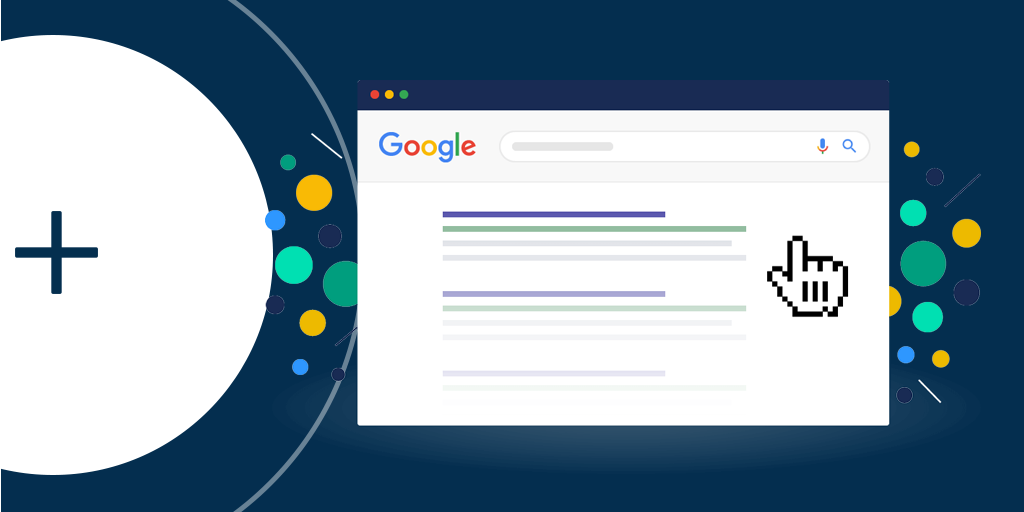 In the last few weeks, we've seen DIY websites set up digital queues to cope with surges of traffic, media streaming providers reduce output quality to limit the strain on networks & whole websites just shut shop. With a further 3 weeks of lockdown announced last week, it's safe to say our computers, tablets & mobiles aren't getting a break any time soon.
As a home improvement marketing agency we are bringing you the latest marketing trends that are important to the industry.
So, how are homeowners using their increased digital time? Here are the top 3 home improvement related searches we've seen boom in the last 3 weeks.
Garden rooms
With homeschooling & remote working in full force, extra space is a luxury at the moment. It comes as no surprise that everyone is trying to make more space in their homes. The term 'garden rooms' described a small outbuilding, achievable for those with a moderate-sized garden & ideal for home offices away from distraction/family/other half. Related searches include garden room material choices like 'all glass', 'insulation options' & 'garden rooms attached to a house' (basically a conservatory or extension).
This image shows in the last 90 days how the parent topic,'Garden Buildings' that includes garden rooms & related searches, has seen a moderate increase.

From a glance at the same search topic but over a 5 year period, this shows it's typical bank holiday user behaviour. We can see roughly the same behaviour patterns but a huge increase in interest this year.

Similar patterns can be seen for subtopics like 'summer house', 'wendy house' & 'man cave'. Judging by the last one, maybe men are struggling a little more with lockdown!
2. How-to & do it yourself
What a great time to do all those jobs you haven't got around to/avoided on the weekends. Whether you love to get hands-on with manual work around the house or boredom has driven you to it, do it yourself chores are top of the to-do list for most homeowners right now. And how to searches within the home improvements parent topic have skyrocketed during this period as you can see below.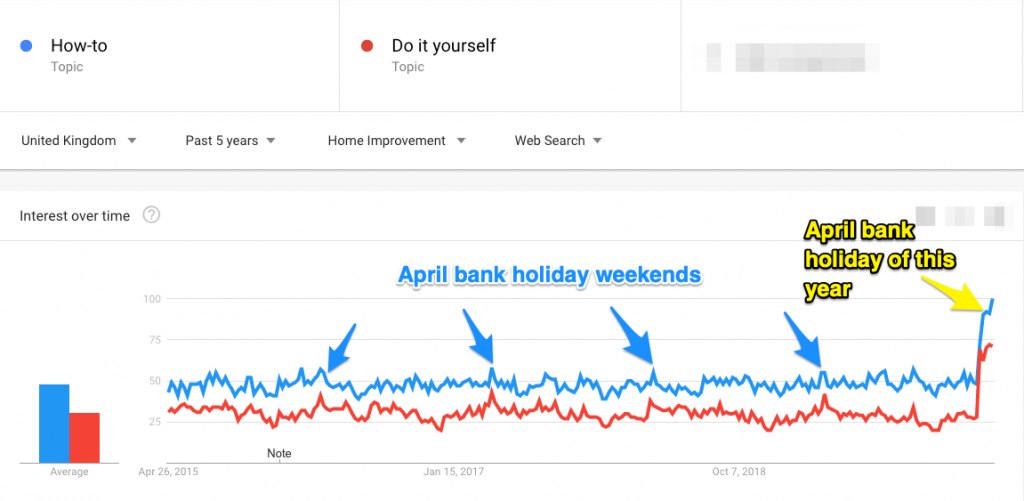 We can see that around the April bank holidays that there is a year after year consistent increase, but this last April bank holiday has seen an over 100% increase in interest levels.
3. Patio/decking
As part of making your home a better space, you will be thinking about your outdoor space more. Trends in the parent topics of 'decking' & 'patio' have shown significant increases slightly ahead of their usual peaks in May.

In related searches to 'patio' we can see what similar queries are rising. Google marks search queries as "Breakout" if they've had a tremendous increase in being searched. With this data you can start to understand customer terminology (near me) & preferences (colours).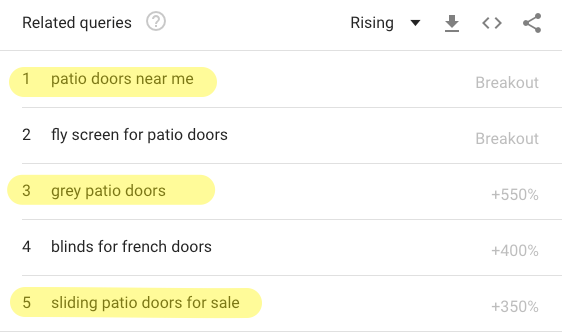 What top tips would we give businesses in the home improvement sector to help them thrive in these times?
Brand exposure is key right now – for everyone that views a blog, a social media post or hears one of your radio adverts, your brand is going to be picked up. Now more than ever whilst homeowners are really looking closely at the space & usability of their home, they will be lining up their favourite sources of information for when they are ready to convert. Now is NOT the time to go dormant, your competitors will capitalise if you go quiet.
Research style content is king – 'how to' & 'top tips' related searches are going through the roof. Enticing the target audience to get into the sales funnel through helpful blog content very early on and keeping them engaged at each step could earn you sales ready customers when the lockdown is lifted and things go back to some form of normal.
Here's a final snapshot of Google's top searches last week (13th – 19th April 2020).

The team at Purplex will be closely monitoring search trends over the coming weeks and trying to ascertain what impact a potential extension to the lockdown period will have. If you'd like to discuss how you can capitalise on relevant search terms for your home improvement company, please contact us for a free consultation.
This entry was posted in Digital Marketing, Marketing Strategy, Purplex News