Back
Wait, you don't have a mobile website?
WAP enabled mobile phones were first introduced to the European market in 1999, and in the last 14 years mobile technology has come a long way. There are now more than 1 billion smartphone users worldwide, and 36 million of these are actively browsing websites in the UK right now.
So why haven't you made your website mobile friendly?
I may be jumping to conclusions here, if your website is mobile optimised, then I hope you're enjoying all of those website enquiries.
If you haven't already optimised your website to display on the mobile phone, then now is the perfect time to do so, mobile searches are at an all-time high, and customers are just begging to buy from you, so let's make it easy for them…
Let's look at an example…
We have recently launched our new website, this website in fact, and we really like it. We hope you do too? It was designed and built with the mobile web in mind, that's why we have a dedicated mobile site!
Take a look at the screenshot below, on the left is this website without mobile optimisation, on the right is our mobile site… Which one would you find easier to use?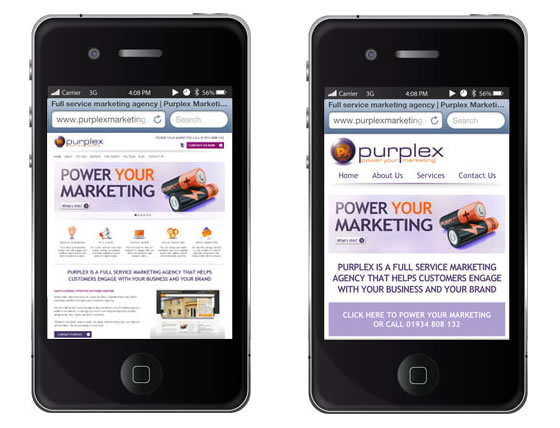 I think the power of mobile optimisation speaks for itself…
Consistency is key
Craig Bowler recently wrote about mobile optimisation for emails in which he explains why it is important to optimise your email campaigns for mobile phones, but what happens when the reader clicks onto the enquiry form, only to find themselves on a website that they can't read?
Once you have engaged a potential customer, and raised their expectations with your fancy mobile email, it's important not to disappoint when they click-through to your website. A well-optimised website could be the difference between a new sale, and a user who leaves your site without enquiring.
There's much more to the mobile web than just having a fully-optimised website, but this is job 1. Once your mobile website is in order, there are a lot more mobile opportunities out there… I mean, we haven't even discussed mobile SEO yet!
This entry was posted in Web Development