Back
5 marketing agencies under one roof
To get the most out of marketing businesses need to look at marketing agencies. Instead of employing one person with a bit of knowledge about most subjects, it means you have specialist teams behind you.
The way people consume media has changed a lot in the last 10 years. They're on their smartphones checking social media sites, searching the web on their tablets and receiving emails on the go. And despite the rise of digital technology people still like to read a physical object such as a magazines or a letter – after-all it can be tiresome reading everything off a screen all the time.
To ensure maximum marketing results, companies need to display their message across multiple channels. Traditional marketing is still important, for instance you still need a presence in trade magazines and direct mail to generate leads, but you also need an up-to-date website, Twitter, Facebook and LinkedIn accounts, email marketing and more.
Covering all these bases and getting the right 'marketing mix' can be a challenge. Large organisations will have entire marketing departments but what about the SMEs that make up a huge percentage of the window industry?
It's not always viable for a manufacturing firm to employ a marketing team. Many will have one or two staff looking after marketing, but expecting them to be PR experts, web-designers, graphic designers, email marketing experts, social media managers and look after the prospect data is a big ask. To be done well each of these disciplines is a specialist job, and one person trying to be all these marketing roles is in danger of spreading themselves too thin.
Many firms therefore choose to outsource marketing activities to an agency. Employing experts in a particular marketing field will give you better results without the hassle having to manage activity in-house, enabling you to concentrate on running your business.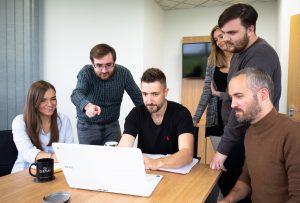 Cohesive marketing
The main difficulty comes when trying to conduct a cohesive strategy. Marketing works better when it's integrated, for instance your online marketing should mirror what's happening offline, so ideally you need the same company managing your web-site as looking after your PR and direct marketing.
Most agencies specialise in one area of marketing, for instance they are a web-design company or a small PR team, but few can offer all these disciplines in-house, meaning the client either juggles multiple agencies or misses out on important areas of marketing.
5 agencies under one roof
Rather than focussing on one area of marketing, Purplex are five agencies under one roof. We employ 26 staff consisting of teams specialising in PR and media, creative design, web and digital, and direct marketing. We operate from a closely knit office and all the departments feed of each other and share ideas – and the result is our clients benefit from integrated campaigns with a consistent message.
Say for example a client is launching a new product. Typically we will promote this via direct mail and email to generate leads, produce the stories and adverts to appear in the trade press, update the website with new content, promote it on social media and produce new marketing literature. All this activity is produced simultaneously by experienced teams who have worked closely together for a number of years – and the client enjoys much faster and better results than if they were to commission these projects to various agencies.
This entry was posted in Purplex News