Back
A day in the life of… A Digital Account Executive
We delve into what it's like as a day-to-day Digital Account Executive in a top performing marketing agency with Mack.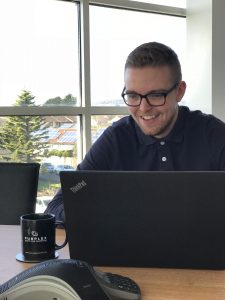 In our third installment of 'A day in the life of', we look at the average day for part of Purplex' s client account management team. Mack started off in the technology industry, managing international clients in a prop-tech startup. Dealing with the international clients, it was there Mack had gained an understanding and passion for how important marketing is for a company to grow – his passion aided him in joining one of the South West's fastest growing companies.
A typical day
'To start the day off, like most of the team, a strong coffee is needed to wake me up and prepare me for the day. The atmosphere in the morning is always great, plenty of bubbly and upbeat characters to motivate you! Checking emails when I get in is always a priority, making sure I'm always engaging with my clients as regularly as possible Is important in making sure we build a good relationship'
Who do you work with on a day to day basis?
'My role essentially means I talk to multiple departments within Purplex, from the technical SEO team to the guys based in the creative suite. I have a range of different clients who operate in different sectors, and it's always great to see each how well each department can work with each other to ensure that we build and run successful campaigns across the board. It's great to see this happen every day.
'Another regular contact point on a day-to-day basis would the web development team – I love sitting down with them and learning some of their coding wizardry! We build and manage a large number of websites, so it's crucial to make sure the client is happy with how their site looks, and that the SEO team are happy with how it performs.'
What programmes do you and your team use to undertake your work?
'It's important that I relay feedback and information to all of my clients and we use a variety of different online platforms and programmes to do this. Google Analytics & AdWords are key, as they both allow me to give feedback on running campaigns and how well they're performing.'
'Microsoft's OneNote is a tool I use daily to ensure nothing is missed and plenty of notes are taken from regular client meetings and calls – the fact that its cloud-based is great, as other departments can add to the notes and take actions, even if I'm out of the office.'
Why do you like working at Purplex?
'The team has built a great culture here – no task is too big, and everyone works hard to make sure that the end goal is met; push the client forward and grow their business. It's a very rewarding role, and I get to see all elements of a busy multi-service agency every day – no day is the same!'
Purplex Marketing was founded in 2004 by Andrew Scott, who previously worked in a number of successful businesses in the building products and home improvement sectors. Since its establishment, Purplex has grown by at least 34% every year and now boasts a large clientele of customers located throughout the UK and Europe.
For more information call 01934 808132.
This entry was posted in Purplex News