Back
Are you wasting your sales leads?
Andrew Scott, Managing Director of Purplex Marketing, discusses the importance of qualifying sales leads.
The topic of sales leads comes up in almost every client conversion.  Salespeople tend to have a particular view of what a good sales lead is, and marketing people often have a different view.  To most marketing agencies, a lead is a lead (marketing agencies rarely understand sales).
Before launching Purplex in 2004 I was client-side, as sales and marketing director of a number of very successful manufacturing, distribution and retail businesses. In fact, when we launched Purplex we had a dedicated division specialising in business consultancy and sales training.
So, I'm a marketing man who understands sales leads and the sales cycle – and I'm constantly frustrated at how some companies simply waste sales opportunities, losing potential customers and millions of pounds in business.
Firstly, let's park up the idea of a sales lead. What we have are potential buyers who may be at different stages in the sales process. The 5 stages in the sales cycle are;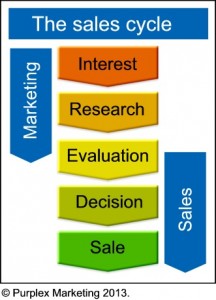 Interest – the initial awareness and interest in your type of product or services
Research – the buyer investigates the market to find more information
Evaluation – assess and compare features and benefits, compare prices and offers
Decision – having evaluated the options available, the buyer makes a purchase decision
Sale – having made the decision, the buyer proceeds to place an order
A potential buyer may connect with your business at any point in the sales process.  The key to converting more leads into customers is to understand where the buyer is in the sales cycle.
Marketing Qualified Leads vs Sales Qualified Leads
A web enquiry responding to a pay-per-click campaign offering a free brochure download is not the same quality of lead as a potential buyer who has called your office asking for a quote, so it is essential that every enquiry or lead you receive is qualified.
A marketing qualified lead (MQL) is an enquiry or lead that the company has generated from their marketing activities but is not sales-ready; it is in the 'interest' or 'research' stage of the buying process.
Passing marketing qualified leads to your salespeople, dealers or distributors will result in very poor sales conversion rates. Salespeople simply won't continue to chase people who are 'just thinking about it'. Before passing MQL's they need to be 'sales ready'.
A sales qualified lead (SQL) is a lead that is sales-ready; in other words, they are in the 'evaluation' stage.  They have gained interest, explored further through research (creating a level of desire) and now want to progress further by evaluating and comparing options.  This is where salespeople do their best work; extolling the virtue of their company and products, and helping the buyer make the right decision.
The type of marketing and the messages you use will determine the balance between MQL's and SQL's. Companies using mainly highly targeted, high quality direct marketing tend to generate sales ready leads, whereas those that invest in online inbound marketing such as SEO and PPC generate a higher number of MQL's.
So how do you move a marketing qualified lead to a sales qualified lead?  Companies need to adopt a lead nurturing process.  This can be simple or complex depending on the objectives and needs of the business.
Introducing Lead Nurturing
Lead nurturing means keeping the lead within the marketing department and engaging with the buyer using a series of tools – e-newsletters, white papers, offers, invitations, nudging the buyer along the buying cycle until they become sales-ready.
Adopting a process for generating and managing marketing qualified and sales qualified leads will dramatically increase your sales conversion rates and ultimately your bottom line.  For further information on nurturing, read my blog post on lead nurturing.
This entry was posted in Lead Generation