Back
Award winning marketing agency announces new apprenticeship programme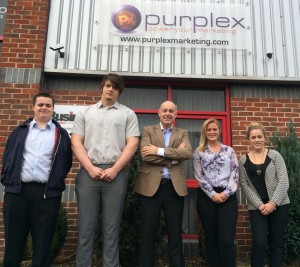 FOUR Apprentices have been recruited by Purplex Marketing, which launched in 2004 and now employs over 40 people.
The specialist PR, marketing and digital agency has taken on four IT Apprentices as part of its ambitious growth strategy.
The Bristol and North Somerset based marketing agency works with clients across the UK and Europe and was founded by Andrew Scott, who has recently unveiled plans to double its 40-strong staff by 2017 in areas such as web design, search engine marketing, app development and social media.
Andrew said: "I am delighted to welcome the four new apprentices. Our digital marketing division continues to grow rapidly as we attract new clients from across the UK and Europe. It is essential that we develop our team to keep pace with growth and new technologies, and introducing apprenticeships will help train the next generation of digital marketing experts."
The apprentices will be trained on the latest online marketing technologies including advanced email marketing, re-marketing, website SEO optimisation and Google analytics.
Purplex teamed up with Weston College, an OFSTED Outstanding education facility which provides higher education.
James Wilmot, Apprenticeships Recruitment Coordinator at Weston College said: "Apprenticeship applications have risen considerably because businesses like Purplex are seeing the benefits. They can mould someone to the company's needs and put them at the heart of their business."
For more information on Purplex call 01934 808132 or visit www.purplexmarketing.co.uk
This entry was posted in Purplex News