Back
Your website doesn't need a blog? Here are 10 reasons why you're wrong
"So, you're writing us a blog. That's great, but what about leads?"
As a digital marketing team in a sales-hungry industry, that's the question we get asked the most. It might not seem like a blog can achieve sales, but it can and it does.
What's the point of a blog?
Search engines judge your website based on its content – words on your web pages, articles on your blog, PDF downloads and videos. Search engines want to give visitors the information they want first time, so it's in their best interests to serve up informative and popular pages. With a well-planned and targeted content strategy, you can build up your website so that people rate you and search engines rank you.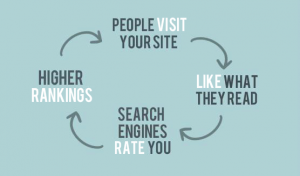 Web content forms a huge part of our SEO (search engine optimisation) strategy. In fact, it's probably the most important factor for getting your site appearing first in search results. Here's why.
10 reasons why content is important to attract, retain and convert visitors
1.        More pages = more authority
Adding extra pages (full of relevant content) and expanding your website will help your site be seen as more important and authoritative. Would you buy from a website with only 5 pages or one that had 50+ pages with an individual page with unique content for each product?
2.       More accurate search results
All the words and keywords on your website help search engines form an idea about what you do, so they can send the right people to your site. You can see an overview of what Google thinks your site is about on Google Webmaster tools – here's what Purplex is "about" based on our on-site content.
3.       Internal links
Another great reason to create extra pages is to boost the authority of the main pages on your website. Say you sell wellies and you write blog posts about waterproof boots, shoe trends, festivals, rainy weather and outdoor pursuits – by linking to your main wellington boots product page in your post, search engines will know your wellies page is important.
4.       Longtail keywords
This is another way of saying 'targeting random search queries'. Your competitors will be trying to target prospects with web pages saying 'buy wellington boots' and 'cheap men's wellies'. Writing blog posts targeting terms less commonly searched for – such as 'cute girls wellies size 2' – will see your posts also appearing at the top of Google for more specific search queries.
5.       Social shares
Google rates pages with better social metrics more highly. If your article on 'The best festival wellies for summer 2014' goes viral (getting lots of comments, shares and likes), this proves that the content is interesting and worth promoting, boosting your site's ranking.
6.       Increasing time on page
A high average 'time on page' indicates that your content is so engaging that it's captured your audience's attention. Maybe other people will like your blog about how wellies are better than hiking boots. *Boosted rankings*
7.       Inspiring people to keep reading
A great article will resonate with you audience and inspire them to check out more of your posts, or find out more about you, your products and services. As well as driving traffic to your main pages, keeping visitors on site for longer will increase the overall domain authority of your site.
8.       Renewing your site
Adding fresh content to your website every month is a crucial part of your SEO strategy. Googlebots (or spiders) revisit sites with new or updated content more regularly, which demonstrates to Google that your site is important. Regular updates also reassure visitors that your business is still thriving.
9.       You're the experts
With a blog full of interesting ideas, helpful advice and posts that show off your expertise, visitors to your website will trust that you know what you're talking about. You understand all the issues people without wellies are experiencing and your superior quality boots are the solution.
10.   Brand awareness
Even if your visitors don't need any wellies right now, the chances are that when they do, or if somebody they know does, your brand will be the first that pops into their mind.
Best practice changes with every Google update; that's why it's important to keep up to date with the latest web design, build and content trends. Regular work is needed to turn your new website into an online sales hub that will attract visitors to your site, increase trust in your brand and convert them into leads – all because of content.
Need help with your content creation?
Poor content sucks. If you don't have the time to invest in writing quality content for your website, you could be losing leads without even knowing it. At Purplex, we have dedicated content creators ready to immerse themselves in your brand, get to know your audience and write well-researched content that will increase conversions through your site.
Blogging is just one part of our content marketing strategy, as well as writing articles and white papers, social media engagement and lead nurturing email campaigns. And all this is just a small part of our overall online marketing package.
For more information about our digital marketing and web content packages, give me or another member of the Purplex team a ring on 01934 808 132, or send us a message.
This entry was posted in Digital Marketing