Back
The Role of Reviews in Google My Business Lead Generation
Building credibility and trust with potential customers is crucial for business owners. One effective way to do this is by collecting Google Reviews, including both positive and negative reviews. In this blog post, we'll explore the impact of Google My Business on lead generation and business credibility. We'll also share tips on optimizing your Google My Business listing for more reviews and strategies for collecting them. Additionally, we'll discuss how incorporating reviews into your marketing strategy improves SEO performance and local search visibility. Finally, we'll look at how monitoring and managing Google reviews, especially negative reviews, helps adhere to guidelines while presenting your business in the best possible light online.
The Role of Google My Business in Lead Generation
Google My Business (GMB) plays a crucial role for marketers in lead generation for businesses. By enhancing online visibility, GMB attracts potential customers, making it easier for local searchers to find your business. Additionally, GMB allows marketers to showcase special offers and promotions, enticing customers to engage with their brand. By utilizing GMB's analytics, marketers can track the ROI of their marketing efforts and integrate with other Google services like Google Ads and Google Maps, amplifying their reach. Boost your lead generation as marketers with the power of GMB.
Understanding Google My Business and its Impact on Local Businesses
Google My Business is a valuable tool for local businesses to manage their online presence on the search engine. By creating a Google My Business profile, businesses have a higher chance of appearing in Google's local search results. This profile provides key business information such as the address, phone number, and website, helping potential customers find and contact the company easily. Additionally, Google My Business allows customers to leave reviews and ratings, which greatly influence the decisions of prospective clients. Optimizing the Google My Business profile is crucial for effective connection with the target audience.
Why Google Reviews Matter for Your Business?
Google reviews are essential for your business as they build trust and credibility on the internet. Positive reviews boost brand awareness and attract new customers. They act as social proof, influencing potential clients' purchasing decisions. High ratings and positive reviews improve visibility in Google search results. Responding to reviews shows that your business values feedback.
There are two main ways that these reviews appear in Google search results. Firstly, when you search for a type of business, you'll often be given a list of local businesses. This is linked to companies who have a Google My Business account. The screenshot below shows an example of this where a search was performed for gift shops.
As you can see there are two companies who have Google reviews and a rating against them whereas the others don't. So if you're searching for a gift shop, from a central London location, and are presented with the above results, then Cool Britannia and the Tate Modern both stand out because of their Google reviews. I wonder how many of us would go for the companies with no stars over those with 5 stars?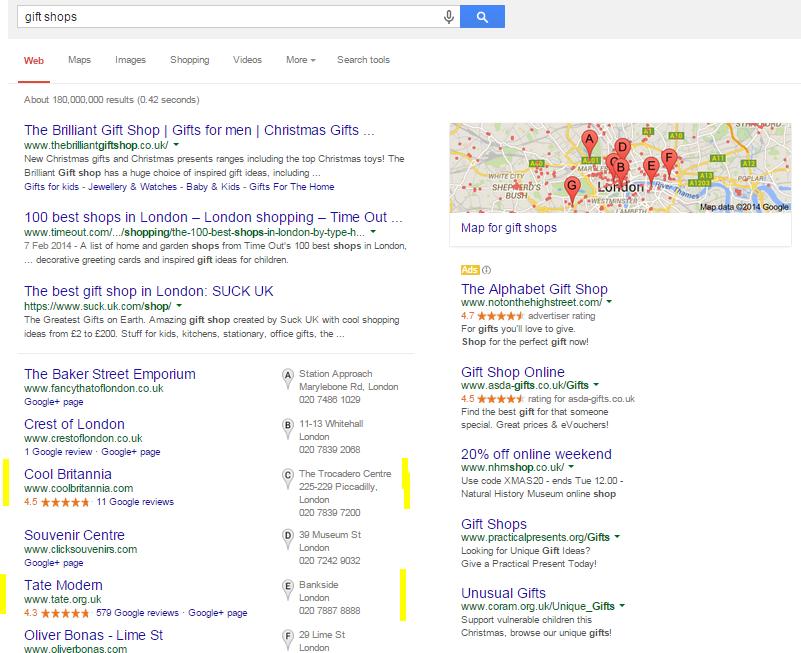 The second way you'll commonly come across Google reviews is if you search for a specific company. In this instance, you can often see a Google My Business listing appear to the right-hand side of the page along with a link to Google reviews, as illustrated in the example below where a search from a central London location was performed for Cool Britannia.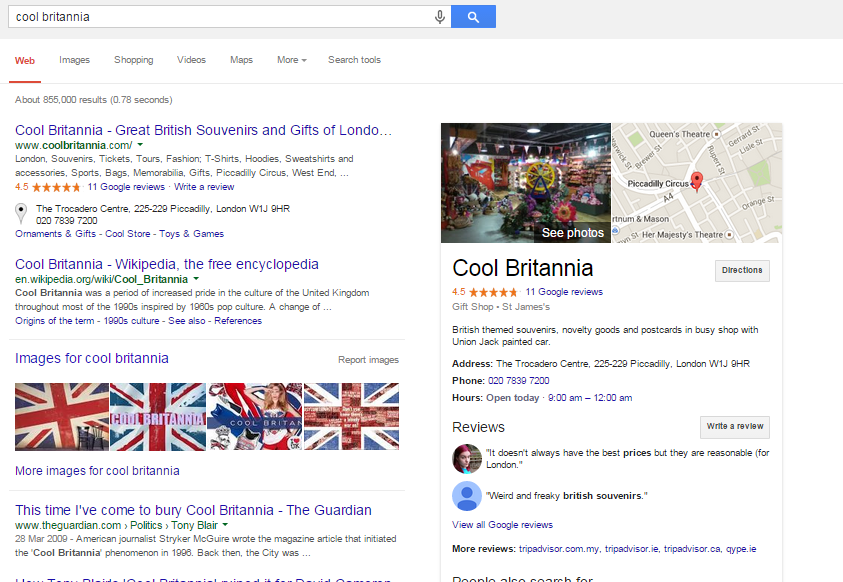 Cool Britannia has achieved 11 Google reviews with an average rating of 4.5 stars. This provides potential visitors with the confidence that they are a trusted and well thought after establishment. To summarise Google reviews are really important to your business because:
If potential customers are searching for a particular type of company like in our example for a gift shop then the companies with Google reviews can draw the eye and help people decide which business to choose
Potential customers looking up a business they already know the name of who see that companies Google listings and Google reviews get an impression of the company through the Google reviews / star rating.
How to Optimize Your Google My Business Listing for More Reviews
To optimize your Google My Business listing for more reviews, start by claiming and verifying your profile. This gives you control over your business information. Provide comprehensive and accurate details to make it easy for customers to find and contact you. Engage with customers by responding promptly and professionally to their reviews. Encourage reviews by providing exceptional service and utilizing Google My Business features like posts and special offers. These strategies can help boost your online reputation and ultimately lead to more reviews.
Steps to Claim and Verify Your Google Business Profile
To claim and verify your Google Business Profile, start by creating or signing in to your Google account. Enter your business details, including the appropriate category, address, and contact information. If you have a physical location customers can visit, select Yes and add your address. Follow the verification process, which may involve receiving a postcard or phone call. Once verified, make sure to complete all the required fields in your GMB profile, such as your business name and description. Finally, optimize your listing with relevant keywords, including the keyword "physical location," for improved search engine visibility.
The Importance of Complete and Accurate Business Information
Providing complete and accurate business information on your Google My Business (GMB) profile is crucial for building trust with potential customers. When you give accurate details like your business phone number, website address, and business hours, it helps customers make well-informed decisions and ensures that they have access to accurate information about your business. On the other hand, if your information is inaccurate or inconsistent, it can lead to confusion and frustration among customers, potentially driving them away from your business. Additionally, having comprehensive and accurate business information increases the likelihood of your business appearing in local search results, making it easier for potential customers to find you. Remember to regularly update your GMB profile to ensure that your business information remains current and provides accurate information to your potential customers.
How can Google Reviews Improve Your SEO Performance?
Improving your SEO performance is crucial, and Google reviews can help boost sales. Positive reviews enhance your local search rankings and visibility, increasing organic search performance. More visibility means more website traffic and potential customers. Utilize customer reviews to generate user-generated content and increase brand awareness, ultimately boosting sales.
The Role of Google Reviews in Local SEO and Visibility.
Google reviews play a crucial role in local SEO and visibility for businesses. They contribute to building credibility and trust, which are essential factors for attracting potential customers. Positive reviews can influence purchasing decisions and attract new customers. Responding to reviews shows that you value customer feedback, helping you build better relationships with your target market. Encouraging customers to leave reviews can improve the quantity and quality of reviews, enhancing your overall online reputation.
What is Google My Business and how can it help with lead generation?
Google My Business is a free tool that allows businesses to manage their online presence on Google. It helps with lead generation by increasing visibility in local search results, showcasing customer reviews, and providing important information like contact details and opening hours.
For more information about Google reviews and online reputation management contact us.
This entry was posted in Digital Marketing