Back
Choosing the right marketing agency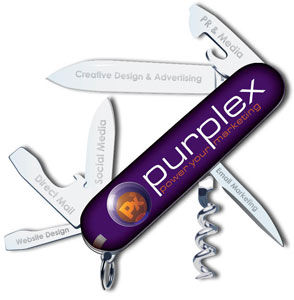 This year's B2B Marketing Summit raised some interesting questions for me, not just about the latest technologies and trends, but about marketing in general, and marketing agencies specifically.
The event was held in London on Tuesday (18th June 2013) and was attended by over 400 marketing professionals from across the UK.  The speakers were excellent, with the opening key-note by Paul Higgins, head of marketing at Talk-Talk.
The format of the event demonstrated the step-changes taking place in marketing.  Emphasis was placed on the four 'hot' marketing topics; social media, demand generation, inbound marketing and multi-channel marketing.
Speakers included experts in their respective fields; thought leaders from technology companies such as Hubspot, Eloqua and Pure360, specialists in content marketing, channel marketing, data and CRM, and world-class advertising agencies such as Ogilvy.
From Purplex we took 7 of our team to the event; content and PR writers, digital marketing people and direct marketing team. It was a major investment both in money and time, but I believe our team need to stay ahead of the curve, ensuring our customers leave their competitors firmly in the rear view mirror.
We all learnt a lot. The very latest cutting edge strategies, technologies and trends. Consumer changes in buying habits and processes. Brilliant stuff. But, at the same time, the event raised some questions for me, and I didn't agree with all the speakers.
He who uses a hammer sees everything as a nail
The problem for me is that the speakers were obsessed with their very narrow specialism.  Many speakers talked about demand generation and marketing automation.  Essentially, digital technologies to attract customers via websites, social media, blogs and online content, then automate a customer engagement programme through a funnel using triggered, automated content sharing.
One of the hottest marketing topics on the day was persona marketing, the strategy of detailed customer profiling, creating a highly detailed persona of your target customers and serving highly relevant content in the most suitable format for them.
But, what if the format your customer is most responsive to is an old-fashioned letter delivered by the postman?  Or reading a magazine? Or, dare I say it, responding to a telemarketing sales call?
Yes inbound marketing, marketing automation, social media and content marketing are massive marketing opportunities to be capitalised on.  Yes, multi-channel marketing is being replaced by omni-marketing. Be everywhere, all the time.
But, and it's a big but, the speakers and experts promoting these cutting edge technologies are the same people pedalling the software systems and running the digital marketing agencies who specialise in them. Funny that.
One speaker told us that email marketing is virtually dead, replaced by social media and content marketing. So how come one of our recent client email marketing campaigns targeting a completely new prospect list of 9,000 contacts had a 98% delivery rate, 23% open rate, 5% click-through-rate and 120 qualified sales leads in 48 hours?  And, if the world has gone all social media instead of email, how come companies like Apple aren't on Twitter or Facebook? Ummm, would the speaker happen to run a content marketing and social media business? Something smells.
Why marketing agencies simply get it wrong
For Purplex we found the entire event fascinating, and we came away buzzing. But we also realised that most marketing agencies get it wrong, sometimes badly wrong, and their clients pay the price.
It isn't about social media, inbound marketing, or the latest SEO, PPC or remarketing strategies. It's about engaging with your target audience in the way that works best for them. And guess what; one minute they may respond to social media or an email, the next they may respond to a telephone sales call or read a great advert in a trade magazine over lunch.  In the evening they may research some material on a website or blog.
The lesson? Specialist marketing agencies, regardless of expertise, are very limited. They see the world through their own lens and expect their clients to follow their wisdom, and sadly, many clients do, often spending fortunes on marketing when they simply don't need to.
It's all about the customer, not the marketing channel
Yes I picked up some great ideas and the latest cutting-edge marketing technologies. I'll integrate them into my business and apply the best of them. But, I also realised why Purplex clients grow so successfully, outperform their markets and leave their competitors spinning.  We don't see the world through a particular marketing lens; we see the target audience, we find out who they are, what they think, how they respond.  Some call it persona marketing, but this is only half the story. The key is creating the marketing strategies to communicate with the personas using multiple channels – traditional PR and advertising, print media, direct marketing and telemarketing, radio and TV if relevant for your audience, right through to the latest digital inbound marketing, social media and content marketing strategies.
Some marketing agencies just don't get it. Perhaps they never will, and in the meantime, they waste clients' money at a staggering rate. At Purplex we continue to deliver results; time and time again. Integrating the latest marketing strategies and technologies with proven, tested, winning marketing campaigns.
Perhaps Purplex is the last of a breed; a truly integrated full service marketing agency. Or perhaps we're the first in a new breed of agency, one where the results are more important than the marketing channels or technologies.
Contact Purplex for more information.
Andrew Scott, Managing Director, Purplex Marketing.
This entry was posted in Purplex News