Back
Construction marketing data for market insights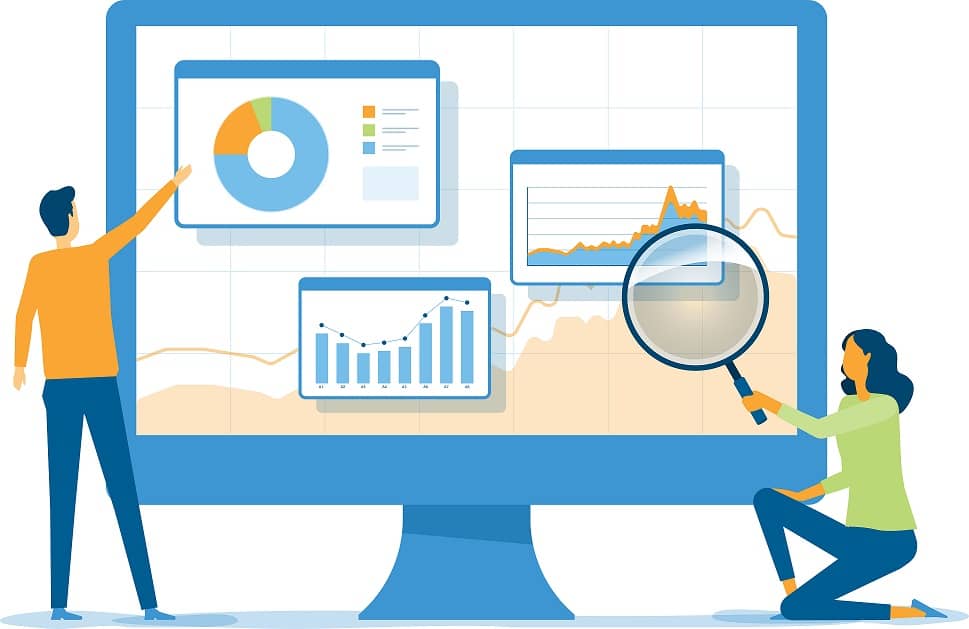 Digital marketing is an incredible way for any UK construction company to improve its reputation and increase brand awareness.
There's a whole mix of digital marketing tools and techniques that companies can utilise to promote their business including social media marketing, email marketing, pay-per-click advertising, search engine optimisation and web design.
A great advantage of digital marketing is that, by being digital, all of the campaigns churn out a host of marketing data.
In this blog, we'll explain what we mean by marketing data, and we'll also highlight how construction companies should use it to get fantastic results from their marketing activity.
Read on for more.
What is marketing data?
Marketing data is an incredibly valuable resource for many construction companies, particularly for those who have ambitious plans to grow their brand and identity within the sector.
Not only can it provide information on specific target audiences, but it can also reveal the latest industry trends and shed light on which digital marketing tactics have been successful – and are worth the investment.
Why do we need construction marketing data?
Accurate and reliable data is an essential part of any marketing toolkit. With it, companies can effectively identify and target potential customers, and marketers can use it to create tailored marketing strategies.
Plus, organisations can understand their customers' preferences and behaviours (to create more effective marketing campaigns) and keep an eye on competitors' marketing strategies.
Ultimately construction marketing data helps to make informed business decisions and tailored marketing campaigns that successfully engage with specific audiences.
The best way to use marketing data
In an ever-increasingly digital world, data is invaluable to construction companies who can fully utilise this information. Not only does it guarantee their marketing campaigns appeal and engage with their target audience, it also results in a steady stream of leads and new business.
Here are some of the best ways to use marketing data to get a great return on investment (ROI) from your marketing activity.
Data helps you better understand your customers 
As we've mentioned above, data is a great way to understand your customer's behaviour, needs and wants.
Whether you conduct market research to find out more about their interests or use online analytics to understand what they engage with and react to, you'll be able to create a marketing campaign for the right people, with the right message that's sent at the right time.
Data enables you to be more money savvy
Digital marketing techniques like social media create the opportunity for businesses to put additional budget behind their online marketing campaigns.
Allocating a set budget to a post on social media is known as 'boosting' posts and this small investment can help a company to reach a much larger target audience.
As a digital tactic, each social media post that's shared online will produce a series of analytics that show how many people saw the post, liked, commented or shared it on their own social media platforms.
With this intel, it'll be clear which types of posts performed the best with the specific target audience and are worth the investment. So, budgets can be reallocated and spent accordingly, giving company's the confidence that this money isn't going to waste.
Reliable and accurate data will help you reach a bigger target audience
Email marketing is a fantastic marketing method that can generate new leads and enquiries. It can be used to promote your products, services or even as a touchpoint to keep customers up to date with the latest business news.
But its success truly depends on how reliable and accurate your email mailing list is.
With an up-to-date, reliable and real-time data list featuring the contact information of key decision makers, you'll be able to target prospects directly in a cost-effective way and they'll end up with some fantastic results as well as longer-term brand recognition.
Similarly, to social media marketing, you'll also be able to track the results of email marketing campaigns that you send. Using specialist email software means you can see how many times it was opened and read which all helps to feed into future strategies.
How construction companies can grow with key marketing data
Using construction marketing data to help shape your marketing campaigns is a fantastic way to create an effective and impactful strategy that not only keeps you ahead of the game but also generates incredible results time and time again.
However, it can be overwhelming understanding what the results mean and how they can be used to help when planning future strategies.
The key to generating real success with construction marketing data is working with a well-experienced marketing agency who can analyse each insight and ultimately do all the hard work for you.
In today's climate, construction marketing data should be used to shape any future digital marketing campaigns to build greater customer loyalty, improve customer satisfaction and retention with existing customers and also increase the number of new customers.
At Purplex we have more than 18 years' experience working with companies within the construction industry to develop comprehensive digital marketing strategies. We have a team of experts who specialise in social media, search engine optimisation, pay-per-click advertising and email campaign marketing – and we know the best way to use marketing insights and data to help grow your company.
If your digital marketing strategy needs an update, get in touch today.