Back
Fold & Slide is the latest in the long line of websites we've launched this year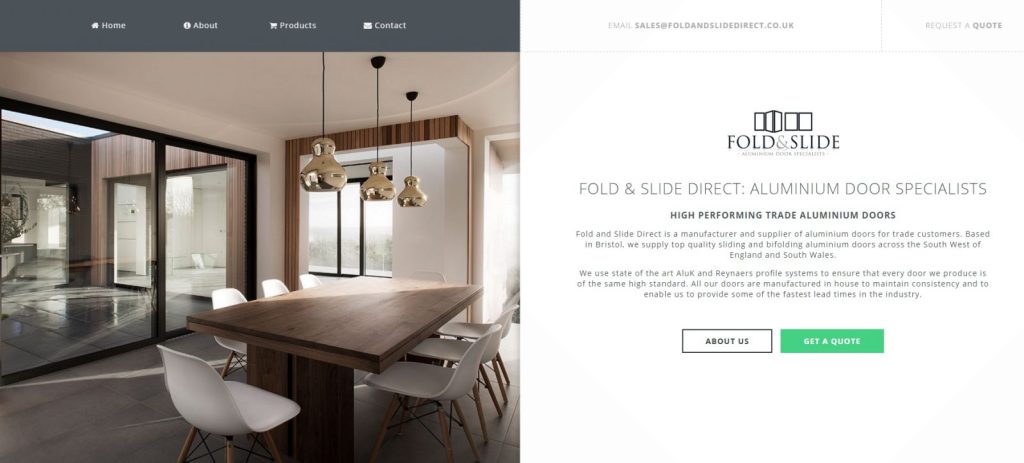 The latest in the long line of home improvement websites we've launched comes in the form of company Fold & Slide, expert supplier of high quality aluminium door products to the South West. Helping builders and installers offer homeowners some of the very best products in AluK and Reynaers doors, we were more than happy to help Fold & Slide communicate their services by way of a website almost as sleek as the products themselves.
A fully-optimised responsive site that is easy to navigate and explore
The brainchild of fenestration experts that boast an impressive 40 years combined experience operating in the sector, Fold & Slide's main base of operation is the Greater Bristol area and our job when designing their new website was to inform local tradesmen of their supply services while also expanding their reach farther afield across the South West.
The website's design itself allows the beautiful products to speak for themselves, giving tradesmen an accurate idea of how eloquent and stylish they look when fully installed. The amount of text is concise and informative without ever feeling dense or overbearing when visitors come to read it. Fold & Slide's unique selling points like surveying services and competitive prices are prominently presented within a site that makes it easy for all to find the details they need.
Key to boosting online leads, converting sales, and drawing in more business
In order to make a dent in the current climate's modern home improvement market, any previous business we've worked with will agree it's absolutely vital to have an engaging online presence. Once this is done, we at Purplex can get to work employing bespoke marketing techniques to increase your SEO ranking so that more people will find you.
Content marketing, search engine optimisation, pay-per-click advertising, social media management, and email marketing are just some of the methods that Fold & Slide will now be able to benefit from. The result is a local company that will be able to boost leads, convert sales and just generally draw in more business than they otherwise would. Fold & Slide want to make clear that their products are premium, so it made sense to do the same with their website and marketing.
Purplex: Marketing professionals that put companies on the digital map
Comprised of a team of over 60 digital and traditional marketing experts, Purplex specialise in helping those operating in the home improvement sector realise their growth ambitions and get seen. As a Google partnered company, we can make your online presence known, increasing visitors' time on page to help you win those enquiries.
Take a look at Fold & Slide's newly built website here – http://www.foldandslidedirect.co.uk/
This entry was posted in Digital Marketing, Purplex News