Back
How important are Google reviews to your business?
The honest answer is Google reviews can be massively important to your lead generation and the reputation of your business online. It's in our natural instinct to look for third-party endorsements and recommendations when shopping around online or searching for prospective new suppliers of goods or services.
What are Google reviews?
Google reviews are Google's way of enabling people to post reviews about businesses online with the option to post comments and give 5-star ratings.
There are two main ways that these reviews appear in Google search results. Firstly, when you search for a type of business, you'll often be given a list of local businesses. This is linked to companies who have a Google My Business account. The screenshot below shows an example of this where a search was performed for gift shops.
As you can see there are two companies who have Google reviews and a rating against them whereas the others don't. So if you're searching for a gift shop, from a central London location, and are presented with the above results, then Cool Britannia and the Tate Modern both stand out because of their Google reviews. I wonder how many of us would go for the companies with no stars over those with 5 stars?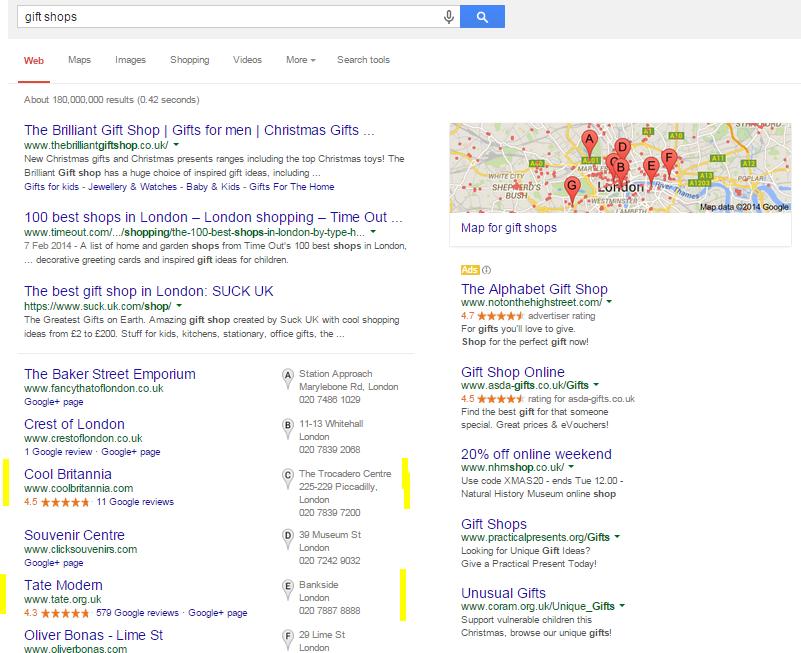 The second way you'll commonly come across Google reviews is if you search for a specific company. In this instance, you can often see a Google My Business listing appear to the right-hand side of the page along with a link to Google reviews, as illustrated in the example below where a search from a central London location was performed for Cool Britannia.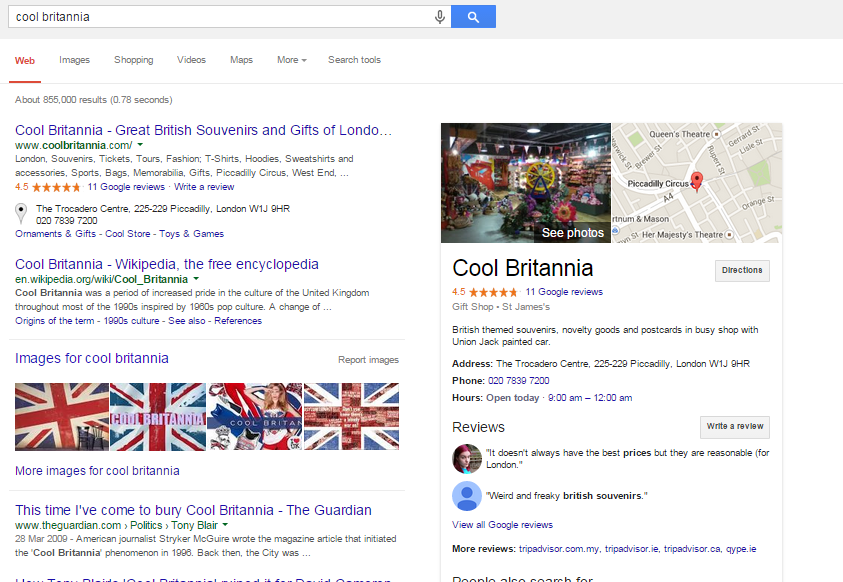 Cool Britannia has achieved 11 Google reviews with an average rating of 4.5 stars. This provides potential visitors with the confidence that they are a trusted and well thought after establishment. To summarise Google reviews are really important to your business because:
If potential customers are searching for a particular type of company like in our example for a gift shop then the companies with Google reviews can draw the eye and help people decide which business to choose
Potential customers looking up a business they already know the name of who see that companies Google listings and Google reviews get an impression of the company through the Google reviews / star rating.
For more information about Google reviews and online reputation management contact us.
This entry was posted in Digital Marketing