Back
How to write a sales letter Sir Alan Sugar would be proud of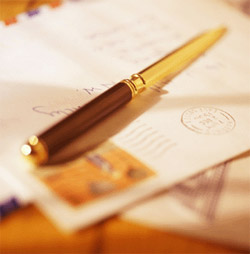 If you use direct mail to promote your company, writing a powerful sales letter is absolutely vital. So how do you write a sales letter than really gets the phone ringing?
Pitch to the right audience
Your product or service needs to match the needs of the recipient. It's no good sending technical material to the sales manager, or fluffy sales material to an operations manager. Target precisely and make it relevant to the reader.
Using a headline introduction
Use a powerful introduction headline to capture the reader's attention so they read the first paragraph. Which has more impact: "A sales letter Sir Alan Sugar would be proud off" or "Writing a good sales letter"?
Use short paragraphs and be precise
Less is more. Get to the point and be clear and concise throughout, or you risk losing their interest. Short, snappy paragraphs are always best. And make it personal – Dear Mr Smith will always elicit a better response than "Dear Sir or Madam".
Use simple words
You are not trying to impress the reader with your vocabulary. Short, easily digestible words are better than long, impressive words. This isn't a technical data sheet, it's a sales letter.
Focus on benefits
You may want to shout from the rooftops how good your new product is, but all the reader cares about is what it will do for them. Talk about the benefits – will it make life easier for the customer, is it faster, better, cheaper? "This new window will reduce your heating bill by £325 per year" is better than "Our windows are fitted with the latest Low-E glass".
Include a call to action
Every direct mail letter should include an all-important call to action, ideally with a deadline. Call before 4pm Monday. The call-to-action should direct people to your website, or to phone or email you for a specific reason – more information, book an appointment, request a brochure. Let people know what to do, and some of them will do it. Don't let them know, and nobody will do it!
Use testimonials
The best recommendation for your product or service comes from satisfied customers, so try to include a testimonial. If you delivered 20 composite doors at short notice to one of your trade customers, quoting your customer as "delighted with your service" can be very compelling.
Use the You word
I can talk all day about how great I am and how great my company and my products are, after all we are the number one in our industry. Alternatively I can talk about you and your business and how you could increase your sales and increase your profit if you simply contacted me. You, is the most powerful sales-word in the English language. Since M&S (Marks & Spencer) became Your M&S the business has seen spectacular success. Are you sold yet?
So there you have it. By following these tips you should be well on your way to writing powerful sales letter that might even impress Sir Alan Sugar. But if you don't have the time or resources to write your own sales letter, let one of Purplex's including highly experienced copy writers do it for you. Find out more about setting up a direct mail campaign with Purplex Marketing.
This entry was posted in Marketing Strategy