Back
"I never saw the point of marketing but I do now", says MD of high-end aluminium firm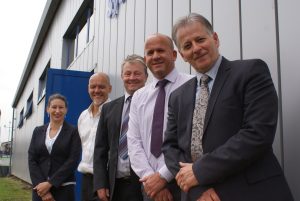 Twenty five jobs and millions of pounds later, the MD of a specialist aluminium fabricator has struck a new long-term deal with its marketing company, four years after they first started working together.
Jerry Webb, MD of CDW systems, has put pen to paper on new a long-term deal with construction agency specialists Purplex Marketing. The two companies first started working together four years ago, and at the time Jerry was a joint managing director at the firm.
Jerry comments: 'At the time I didn't really see the point of marketing. For me running a business was just about operations, manufacturing and bottom line. I was worried that an external agency wouldn't get our business and industry; and be able to add value. But my business partner at the time convinced me to appoint Purplex.
'I'm glad I did as the results really have been spectacular. Purplex know the construction industry inside out; and what they do works in tandem with our long-term business plan."
Jerry says the results speak for themselves; and together with Purplex CDW has grown its turnover by 53 per cent in four years and employed twenty five new members of staff.
'We've added millions of pounds of revenue to the business and employed lots of new people; which in turn has had a positive supply side impact to the local economy. We've also re-developed the factory and added a night-shift," Jerry adds.
CDW Systems is a Gloucester based specialist aluminium manufacturer that employs over 60 people. It is famous for supplying some of the UK's most prestigious domestic and commercial projects, most recently its products were specified for the refurbishment of Harry Redknapp's house in Bournemouth.
Andrew Scott, MD at Purplex, comments: "CDW is a classy company that is great to work with and has achieved amazing results. They're pioneers at what they do and leaders in their sector."
Purplex employ 43 staff and are a full-service marketing agency. CDW systems use the agency for PR, lead generation and website and online marketing.
This entry was posted in Marketing Strategy