Back
Leading rooflight specialist begins bright partnership with Purplex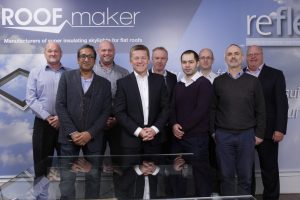 One of the UK's leading rooflight manufacturers with a strong reputation across the glazing world for quality and innovation, has appointed Purplex as their PR agency.
Leicester-based Roof Maker manufactures an extensive range of roof windows including flat, pitched, opening and lantern rooflights, and is a well-recognised brand in the retail sector.
Roof Maker's impressive reputation led to their acquisition by Next Wave Partners LLP in the latter stages of 2016. The new owners are looking to take the company to the next level, stepping up activity in every area – including their marketing, appointing Purplex to work alongside their digital and marketing team to develop and implement a multi-channel strategy.
Paul Mildenstein, CEO of Roof Maker commented: "We have grown a strong presence in the retail sector with our stunning rooflights, selling to customers across the UK and internationally. However, we are now looking to grow in the trade and commercial sector, building relationships with architects, specifiers and installers. We appointed Purplex because of their experience in this area, helping businesses within the fenestration industry expand and become a recognised name in the trade and commercial space."
"We are delighted to be working with Roof Maker," commented Sam Cross, Account Director at Purplex. "They are the leading rooflight specialists in the fenestration industry with a strong global identity. Purplex will help to develop Roof Maker's brand in the trade and commercial sectors, establishing connections with professionals within the industry, highlighting the commitment to quality and innovation which has given them such a strong position in the retail market."
Are you an ambitious company looking to grow? Contact Purplex for more information
This entry was posted in PR