Back
Mobile web usage beats desktop for the first time. Will your business be left behind?
For the first time, mobile web usage has overtaken web usage on traditional computers and laptops, a new study has found. The shift highlights the changing tides in computing, and the rapid movement towards mobile and tablet devices as the most popular way to consume information.
The study by Statcounter found that in October 2016, 51.3% of web pages were loaded on mobile devices – the first time it surpassed that of PCs, desktop and laptop computers. For small and medium-sized businesses, that's big news – especially if their websites are outdated and not optimised for mobile devices.
Statcounter based their findings on over 15 billion page views per month, to over 2.5 million websites. Whilst internet usage from traditional computers still accounts for the majority of those views, its share is reducing month-on-month. In October 2009, PCs were responsible for almost 100% of web usage. Now, after developments in mobile technology that have seen the release of faster, more capable smartphones with endless functions, the computer's internet usage share sits at just over 55%.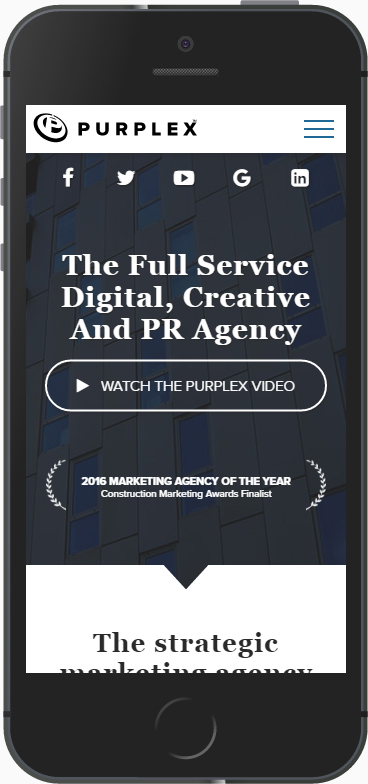 There is a fear that if the trend continues, sole traders, small and even medium-sized businesses could be left behind, relying on archaic websites that aren't viewable on a mobile. That problem has been compounded by recent changes search engine giant Google have made to their algorithm – now, mobile-optimised websites are being ranked better, while those without mobile optimisation are ranking worse.
The result means businesses without mobile-optimised websites will see a dramatic reduction in web traffic, enquiries and sales. With only 10% of fabricators and installers having a fully mobile-optimised website, both developments could spell disaster for the glazing industry.
"We've worked with dozen of businesses that have come to us with websites that are not fit for purpose," commented Andrew Scott, Managing Director of Purplex, the leading marketing agency for the construction industry. "Statistics like this should ring alarm bells for companies with out-dated websites."
"We have a dedicated web development team at Purplex who can work with businesses to develop high-performing, future-proof websites that can be as simple or as complex as they need. Whether it's e-commerce, search-engine optimisation or even high-quality imagery and video content you require, we can bring your website right up-to-date and make sure it's as beautiful and accessible on a smartphone as it is on a computer."
Purplex not only build websites, but have a team of over 50 staff that specialise in PR, design and branding, filming and video production as well as content creation for email marketing, search-engine marketing and social media.
"We allow businesses to bring all of their marketing under one roof, letting us to provide them with a fully-integrated campaign carried out by more than 50 of the industry's leading marketing professionals," added Andrew.
Purplex Marketing was founded in 2004 by Andrew Scott who was previously marketing and sales director for several companies in the building products and home improvement industries. Purplex was created to provide businesses in this sector a port of call for marketing consultancy and expert PR, branding and digital marketing. Clients range from small home improvement firms to global building product manufacturers.
This entry was posted in Digital Marketing, Web Development