Back
Purplex launch 'BuildOn.Different' campaign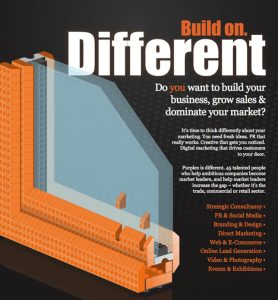 Construction and Glazing marketing specialists Purplex have launched a new advertising campaign 'BuildOn.Different' to highlight the need for companies to stand out from the competition in today's fast-paced business world.
Developing a product range, service offering or other USP's that set your business apart from other suppliers is crucial, while it's more important than ever to be different in your marketing says Purplex Account Director Sam Cross.
He comments; "Over the last few years B2B and B2C marketers have faced a bewildering number of changes both in marketing channels and tools, and in customer behaviour. Traditional, proven marketing strategies have become less effective; yet the latest social channels, mobile marketing and online activity require inordinate levels of time and effort".
The 'BuildOn.Different' advertising campaign uses a visual of a window cross section made out of orange plastic building blocks, and will be used extensively in print and online.
Sam adds; "Customers today are bombarded with more messages and content than ever before; they are checking their mobile phone while flicking through a magazine and watching TV in the background. Marketing has to be more effective than ever, and the key to this is standing out – be different."
But how can companies manage an effective marketing campaign with the explosion of marketing channels and platforms that customers are using every day?
Trying to do it all yourself is almost impossible. That's why more and more companies are working with external marketing agencies to support their internal team, or choosing to outsource it altogether.
For companies that want to 'BuildOn.Different', Purplex is a full service construction marketing agency with specialists in PR and social media, branding and design, web development, online marketing and lead generation, and video production, all working seamlessly together.
This entry was posted in Purplex News