Back
Purplex launch online composite door builder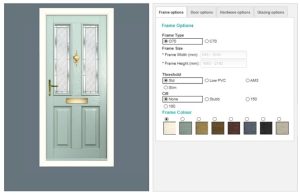 Purplex has developed a range of online 'configurators' for clients in the glass and glazing industry, designed to increase lead capture from websites.
A new composite door builder can integrate into any website and enables visitors to select their door style, colour, glass and hardware options within a few seconds, then enter their details to receive a quote.
"Having a static website with a few images is no longer enough" explains Purplex head of digital, Adi Day. "Websites with interactive tools and configurators have higher visitor engagement and this builds trust, brand awareness and dramatically increases sales leads."
Online designers were pioneered by the automotive industry, with leading car brands offering visitors the chance to select models, colour schemes and options online.  The composite door builder is the latest in a range of interactive web tools from Purplex designed for clients in the £3 billion glazing industry  – the line-up already includes a sash window designer and bi-fold door builder.
"The online tools are part of a portfolio of web and online marketing strategies designed to attract more visitor traffic and increase lead capture. They are cross-browser compatible so whether a visitor is using Internet Explorer, Safari, Chrome or Firefox they enjoy the same experience" adds Adi.
Purplex is a full-service, integrated marketing agency with 40 full-time staff. It specialises in strategy, PR, branding and digital marketing with clients across the trade, retail and commercial markets.
For more information call Purplex Marketing on 01934 808132 or use our enquiry form.
This entry was posted in Purplex News