Back
Purplex provides new website for innovative building system
Purplex has provided Green Life Buildings (GLB), manufacturer and supplier of an advanced panelised building system, with a new website as it looks to cement the system's reputation as the perfect way to build in the 21st century.
Thanks to EMMEDUE (M2) technology, the Corby-based company's system uses prefabricated insulated panels enclosed in galvanised steel mesh with connectors which come in twin wall cavity fill and on-site concrete spray sip versions.  Once in position onsite, and sprayed or cast depending on the panel chosen, they provide unbeatable strength. The panels can form walls, floors, landings, roofs, stairs, and internal partitions can be curved.
GLB's MD Chris Williams explained: "We have grown a huge amount as a company in the last 15 months, having opened our own Digital Manufacturing factory at the beginning of 2020 and our new website is the next step.
"As a design and innovation leader, it was important for us to make the information regarding our advanced building system easily accessible for our current and prospective clients and really showcase what it can do."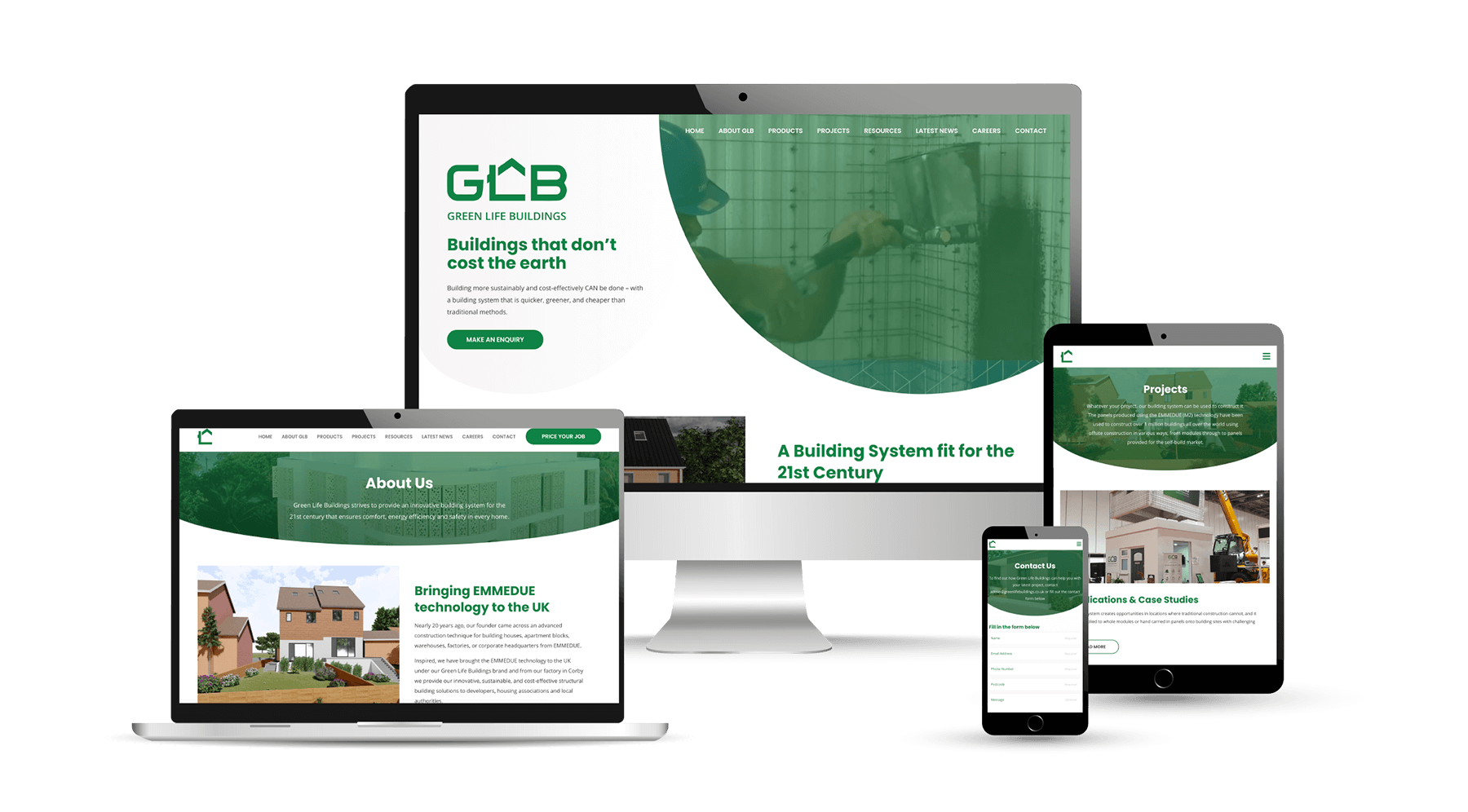 Amongst the new features of the website, www.greenlifebuildings.co.uk/, is an initial landing page to help direct visitors to get the right information for them, whether developers and contractors; local authorities and housing associations; or small scale and self-build projects. It also provides visitors with better access to the advanced building system, who GLB are, how they work and projects they have completed, as well as a facility to upload design images and an improved Careers page.
"The website provides visitors with a comprehensive overview of GLB, our knowledge and expertise in the sector, and our building solution," added Chris. "It also allows for each visitor to gain a better understanding of what that system can offer them."
Adi Day, Purplex's Digital Director, said: "GLB's advanced building system is really gaining traction from UK developers who are looking to build in a quicker, greener, and cheaper way. And the Government's agenda of an increased use of Modern Methods of Construction (MMC) will mean plenty of opportunities for GLB to contribute. Their new website is already helping with that process."
The team at Purplex are highly proficient with website projects, SEO services and wider digital technologies that put the customer at the centre of their online journey. We help customers tell their story online through user-friendly websites that drive prospects and customers to take action, capturing leads or online sales.
Talk to the Purplex team today about your new website projects, we can help with anything from a landing page to a full-blown global website or from eCommerce solutions to bespoke online applications.
Related posts
This entry was posted in Creative Design, Digital Marketing, Marketing Strategy, Purplex News, Web Development