Back
Recycling company seals deal with Purplex as launch of new 'super site' approaches

ETM Recycling has appointed Purplex as its marketing agency to coincide with the launch of their new £4m recycling plant.
The Bristol company, part of the ETM Group, will be opening the South West's first zero waste to landfill site and decided to get on board with the leading full-service marketing agency to help them move into an exciting new era.
Formed in 2010, ETM Recycling invested and built a state-of-the-art Materials Recovery Facility (MRF) a year later at Ashton Vale in Bristol to reduce the amount of waste that is disposed via landfill sites and provide a recycling centre for the local community to dispose of their waste.
The new recycling plant, which will be on the same site, is expected to increase the volumes of material that can be processed.
Last year ETM accepted and processed 70,000 tonnes of waste and this is expected to increase to 140,000+ once the new system is fully operational.
The new plant will also enable ETM to process waste arriving on site more efficiently, around 80-100 tonnes of material per hour compared to the same amount over 24 hours. It is also set to improve waste segregation to help them achieve 98-100% landfill diversion.
ETM Recycling's chairman and founder is Eddie McCormack:
His son Andy and daughter Amy are both director's in the business, with Amy heading up the recycling site.
She comments:
"We have grown massively in the last couple of years and the new plant, which will be the only recycling facility of its type in the South West, will place ETM at the forefront of the recycling industry.

"It is set to push us on as a company even further and build on our initial success, and we chose to partner with Purplex because of our ambition and their experience of helping businesses build their brands."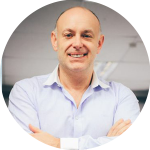 Andrew Scott, Managing Director at Purplex, commented:
"It is an exciting time for ETM Recycling with the imminent launch of their new site, which will be the most efficient and effective plant in the South West. The service ETM provides is absolutely vital and we are delighted that they have chosen us to promote their message and help drive them forward through highly targeted PR."
Purplex Marketing was founded in 2004 by Andrew Scott, who previously worked in a number of successful businesses in the building products and home improvement sectors. Since its establishment, Purplex has grown by at least 34% every year and now boasts a large clientele of customers located throughout the UK and Europe.
For more information, call 01934 808132.
This entry was posted in Web Development