Back
Responsive Web Design Somerset | Optimized for All Devices
Local home improvement company Majestic Designs recently approached Purplex to help them with a new website for their retail division. Majestic Designs have been in business for over ten years servicing the South West from their site in Cheddar, Somerset.
Understanding Responsive Web Design
Achieve optimal user experience on smartphones, tablets, and desktops with responsive web design. Ensure your website looks great on all devices by adapting to different screen sizes and orientations. Improve visibility on search engines with a mobile-friendly design that increases conversions and decreases bounce rate.
The importance of a mobile-optimized web presence
In today's mobile-centric world, having a mobile-optimized web presence is crucial. As more users browse the internet on their smartphones, it is essential to provide them with a seamless and enjoyable browsing experience. A mobile-optimized website not only improves user experience but also leads to higher engagement and conversions. Additionally, Google prioritizes mobile-friendly websites in search results, which can significantly boost organic traffic. By staying ahead of competitors and optimizing website loading speed for better mobile performance, businesses can ensure they provide a superior mobile browsing experience.
Steve Harris (MD) from Majestic Designs commented: "We selected Purplex to design our new website because of their industry experience and design skills. We are delighted with the results and are already seeing a steady flow of quality leads through the site."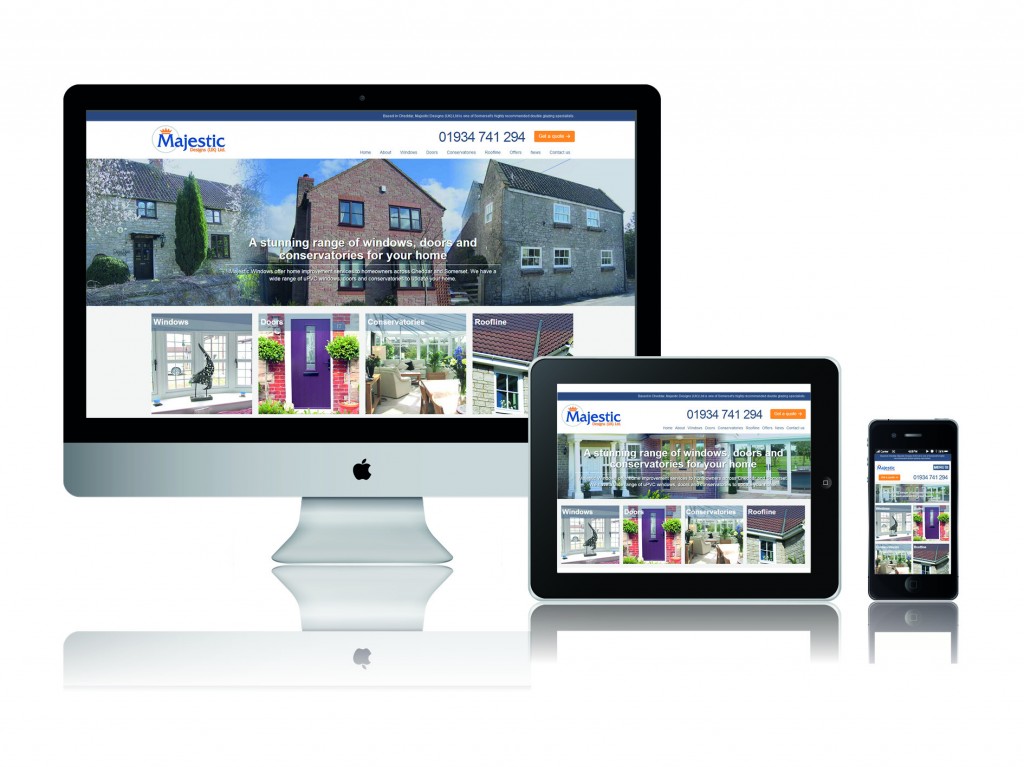 Key Features of Purplex Marketing's Responsive Web Design in Somerset
Purplex Marketing's responsive web design in Somerset enhances user experience across all devices. It adjusts to screen size, ensuring visibility and easy navigation. It loads quickly and features intuitive navigation. The modern design leaves a lasting impression.
User-friendly Design and Interface
Create a seamless and intuitive navigation system, guiding visitors effortlessly. Utilize whitespace and typography to enhance readability and appeal. Ensure fast loading speed for a smooth experience. Optimize forms and checkout processes for easy completion. Implement clear calls-to-action to guide towards desired actions.
Purplex recommended a fully responsive website design as the basis of the new site. Recent trends in the last six months have seen 'search' traffic from mobile devices overtake desktop. For Majestic to best engage with potential new customers online it was crucial for their website to be built for mobile.
Ensuring Your Website's Performance across All Devices
Optimize your website for optimal user experience on any device. Test compatibility across browsers and devices. Implement mobile-first design principles to prioritize mobile users' needs. Regularly analyze user data for improvement. Stay updated with trends and technologies in responsive web design.
Streamlined Experience for Mobile and Desktop Users
For a seamless user experience, it is important to ensure consistent branding and messaging across all devices. Optimize website navigation for both mobile and desktop users and prioritize important content and features to improve usability on smaller screens. Implement touch-friendly elements for easy interaction on mobile devices and utilize responsive image and video techniques to enhance loading speed.
Constant Updates and Maintenance for Optimal Performance
Regular updates and ongoing maintenance are crucial for optimal website performance. Stay up to date with the latest functionality and security measures to keep your site fresh, relevant, and ahead of the competition. Responsive web design ensures a great user experience on all devices. Regular updates also improve SEO rankings and drive traffic. Prioritize constant updates, maintenance, fresh content, blog articles, and email marketing to stay competitive.
How do we ensure security in our designs?
We prioritize security in our designs through secure coding practices, rigorous testing, and encryption protocols. Regular security audits and updates keep your website safe. Our team stays updated on the latest trends and best practices. We use the industry-standard WordPress CMS platform for robust security and a user-friendly interface. With WordPress, you can easily manage your site, update content, and ensure its safety.
Contact Us for Your Web Design Needs
Let our expert team create a responsive web design that aligns with your business objectives. Contact us to explore how responsive web design can benefit your business. Our tailored solutions fit your budget and timeline, leveraging our expertise in web design, SEO, and digital marketing. Request a free consultation today.
This entry was posted in Purplex News