Back
Top 12 tips on how to take better photos to showcase your craftsmanship
Do you struggle with taking good photos that showcase your craftsmanship? Do not worry as we sometimes do too! We are all a little bit guilty of taking straight-on photos, or not considering any reflective surfaces around us.
But worry not because did you know that Purplex Marketing has a WhatsApp group for you and your installers to upload photos of your work and products? It is a great way for us to share lots of helpful tips before adding those photos to your website. Simply ask your account manager for more details.
In the meantime, we have pulled together our top 12 tips on how you can take better photos to showcase your excellent craftsmanship.
Use landscape instead of portrait mode
Simply turning your phone on its side gives us more of an area to work with your photo.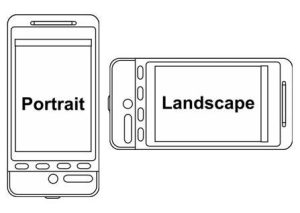 Use the best quality settings that your phone lets you use.
When sending the photos, please make sure they are sent in the best and largest format.
Photograph from an angle
When taking outside photos of a house or building, shoot from an angle rather than straight on. When shooting from a straight-on point of view, it makes the structure look flattened. Seeing things from a different angle shows the architectural lines and gives more dimension and as always, will result in highlighting your work and giving a much better photo.

Take before and after photos to show the progression
Make sure to take before and after photos/progress photos to show your work as it progresses from start to finish. When you have finished all your work take a look at the before photo to refresh yourself of where you stood and what angle you took the photo from, to then duplicate it for the after photo.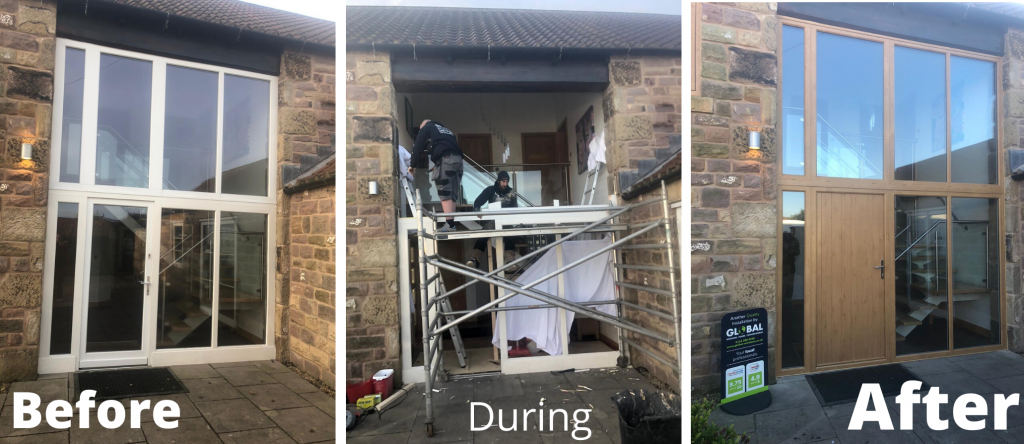 Stable your phone by resting it on an object
Try and rest your phone on something (Toolbox?), this will help keep the angle straight and stop it from blurring.
Watch out for any reflections in your photos
Try not to catch yourself in the reflection of the glass. You might take an amazing photo for it to be compromised by having you standing in the reflection.
Choose your angle, kneel down, and take the shot upwards – a shot taken around 100cm from the floor is best. This is the type of photo that you will find in high-end magazines and websites. An angled view taken low and from the side will also make a great shot.
Be mindful of the weather forecast
Sunny days are best to capture your best work but we are lucky to get these, so if you are outside and have an outside light source use it, as it will highlight your work. If you are indoors then use as much natural light as possible; open blinds, curtains, etc. If this is not possible then turn the lights on.
However, at all costs refrain from photographing glass and windows with flash. It tends to result in an awkward reflection of your work or a bad glare. Be sure that your light source is behind you.
Include as much as you can within the photo
Try and include as much of the house or room in a shot as possible. This is important as it allows the viewer to understand the look of the work you have undertaken. Also, this gives us room to work on your image for the best outcome on your website.
Remember to tidy up before you take a photo
Having a tidy up before you take your photo, putting your tools away, or moving things to reduce clutter from around the area that you are about to photograph will reflect in a better photo and will enhance your photo showing off your amazing work.
Clutter on the job means cluttering the photo. Anytime a photograph can have a cleaner look, people are more likely to respond. Plus, it's less of a distraction and more focused on your quality workmanship.
Here is an example of a boring and brilliant photograph.
Let's start by showing you these two photos. The one on the left is dark and dingy and more than likely will leave you feeling confused about where you are supposed to look. What is the focal point? Are your eyes immediately drawn to the washing hung up on the line in the background, or the beautiful roof lantern? ❌
The photo on the right, however, is an example of a brilliant photograph. With no mess, cluttering, or distractions, the outdoor chairs in the forefront and left-hand side of the photo provide a frame to guide our eyes into the focal point of the photo, the conservatory ✔️

There's no need to put your company sign outside your work, we only use your photos for your website and socials and they have all your company details on there. If you need to take two photos, please take one with the sign and one without.
Rename your photo with an appropriate file name
Rename your photos with the products you have used "A Solidor composite door in midnight black" will help us place the photo in the right section of your website and will help when search engines search for products.
Frame your photograph
When taking a photo outside of your work try and frame the structure so that there's some extra space around it. This gives the building context and will focus the eye on your outstanding work.
Take multiple photos
Most of the time, the first photo you shoot will not be the one you will use. Taking multiple photos will give you a variety to choose from and capture your work from different perspectives. If you have a favourite photo then send us the one you think is best, however as best practice we would suggest sending them all.
And lastly, please always remember to get permission before taking/using any photos!
Always remember to get permission from your customers to take and use photos even though it's your work, it's their home.
The full service digital, creative, and PR agency based in Weston-super-Mare
For more information about how we can help you, please contact us or call us on 01934 808132.
This entry was posted in Purplex News