Back
Andy Glass with a touch of Purplex Marketing Class
Oxford's leading double glazing installer Andy Glass recently appointed Purplex Marketing to build them a new website. Andy Glass are on a mission to grow their business and recognised the importance of having a mobile friendly new website that would showcase their expanding range of products. Martin Grimsley – sales manager from Andy Glass comments:
"Purplex were the obvious choice for us as they had a wide portfolio of window industry websites which gave us the confidence that they would be able to provide us with a fantastic looking website with minimal effort from us. The guys at Purplex have expert window industry knowledge which meant they knew exactly what to write in terms of copy for the website. We are delighted with the outcome and have already seen a steady flow of leads through the site"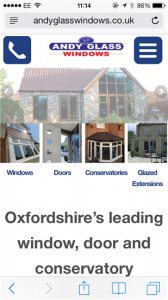 Martin and Dean from Andy Glass are keen to innovate and provide their customers with new products and services. The easiest and best way to communicate this is through their website with the help of the team at Purplex. Adi Day, Head of Digital comments:
"It's no longer just enough to have a good website. Businesses need to keep their website updated with fresh new content to not only engage with customers which in turn builds trust, but importantly illustrate to search engines that your website is alive and regularly updated – this will help rank your website above your competitors and generate more enquiries as a result"
Purplex Marketing are a window industry specific full service marketing agency, with 40 full time staff offering everything from online marketing and video production, to direct marketing and graphic design. Visit www.purplexmarketing.co.uk to kick start your marketing and generate more double glazing leads today.
This entry was posted in Purplex News