Back
SEO Services for Construction Companies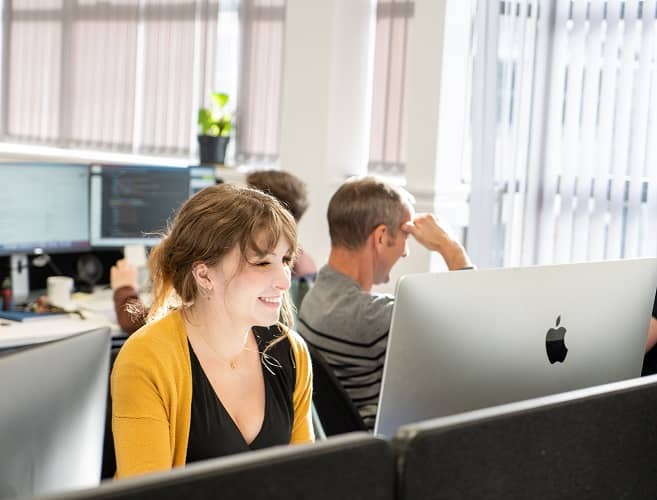 Rewind the clock 20 years and you'll no doubt find that things were much simpler for businesses who were looking to engage with their target audiences. There were just a handful of primary channels marketers frequently used, unlike today where there's a whole host of online platforms to contend with.
In an increasingly digital world, construction companies must explore which digital marketing tactics are most likely to deliver results.
One service which is essential to achieve success is search engine optimisation (SEO). Designed to increase any construction company's online visibility, SEO is a fantastic marketing technique that can improve search engine ranking, drive traffic to a website and therefore, generate a host of new enquiries and leads.
In this post, we'll explore search engine optimisation in more detail and how it can help benefit your company. Read on to learn more.
What is SEO?
Search engine optimisation or SEO is a marketing process used to make your brand, products and services stand out amongst the crowd in a virtual marketplace. An effective SEO strategy means that when potential customers search online for products or services related to your business, they'll see your website at the top of Google, Bing and other search engines.
It is a great long-term marketing plan for a construction business, and many companies which invest in a robust SEO campaign will rank higher on search engines, increase website traffic, raise brand awareness and most importantly generate more leads.
For construction companies, SEO is essential.
Why do construction companies need SEO?
There are two main reasons why construction companies need SEO. Firstly, it helps to increase online visibility and secondly, it improves website traffic and results in more leads and therefore, sales.
If you're a construction company that doesn't currently have SEO services, it's time to explore how this can positively impact your business.
As we mentioned above, digital marketing is on the rise and customers opt to search online for the services they need.
Construction companies which invest in a clear SEO strategy will rank more highly in search results for key phrases related to their products and services – putting them much further ahead of those operating in the construction industry without an SEO plan.
Often seen as the dark art of marketing SEO services, in simple terms, help to improve where a website appears on search engines by optimizing content on web pages and blogs, adding keywords and meta data and conducting competitor analysis.
In short, if you're looking to improve you construction company's digital presence, investing in SEO is definitely the way to go.
But be mindful that there are many different techniques that can be used for SEO. As a technical digital marketing method, it's best to collaborate with a full-service marketing agency that have the knowledge and expertise to get the best results for your company.
With the right marketing partner by your side, they'll be sure to do all the hard work for you including targeting specific keywords, optimising your website for search engines and drafting a comprehensive SEO strategy.
Take a look at our construction SEO case studies to see what we could do for you.
SEO in construction
Working in a competitive industry is no easy feat. With fierce competition, companies need to do everything they can to increase their online presence so they're visible to their potential customers.
This is why SEO is an essential part of every marketing strategy.
If you're not ranking highly on search engine results pages (SERPs), your business is certainly at a disadvantage. But don't worry because that's where we come in.
Key elements of SEO for construction services
Every SEO campaign focused on getting traffic from organic search to your website from people looking at construction services and products will have a set of key elements. These elements will be common to all SEO campaigns and it's worth explaining them more in detail here.
Keyword research
Keyword research is the foundation of any SEO campaign.
Keywords are the phrases and terms that people type into search engines to find what they're looking for. By identifying the most relevant and popular keywords for your construction services and products, identify the potential traffic for each service you offer and what content needs to be improved or created in order to get your website better rankings.
You can use tools like SE ranking and keywords everywhere to get a list of keywords for your website. These tools will give you the most important statistics such as:
Search volume
Cost-per-click estimates
Related keywords
By gathering this information and identifying the most relevant and valuable keywords that your potential customers are using when looking for what you offer you can plan and prioritise optimisation tasks like on-page optimisation and content creation.
On-page SEO
On-page SEO refers to the practice of optimising individual, existing, web pages in order to rank higher in search engine results and earn more relevant traffic. This includes optimizing written content, HTML code, and multimedia elements such as images of a webpage to make it more easily understood by search engines and users. On-page SEO is important for any website, but it can be particularly relevant for a construction company's website, as it can help attract more qualified traffic and leads.
Some key components of on-page SEO for a construction company's website include:
Using relevant and high-value keywords in the right places on the page and in the page code
Optimising the page title tags and meta descriptions to include target keywords and provide a brief overview of the page's content
Using header tags appropriately to indicate the hierarchy of headings and subheadings as well as including relevant keywords
Optimising images by using descriptive, keyword-rich file names and alt descriptions
Include relevant keywords in the URL if appropriate
Link to other relevant pages on the site and external resources where appropriate
Make sure quality content that satisfies searchers in place in order to increase qualified leads
By optimising these and other on-page elements, a construction company can improve its SEO ranking in Google search and attract more qualified organic traffic. This can be especially important in a competitive industry like construction, where it's important to stand out from the competition and make it easy for potential customers to find and contact your business.
Off-page SEO
Off-page SEO refers to the practice of optimising the visibility and credibility of a website through activities that occur outside of the website itself. This includes building backlinks from other reputable websites, as well as building a presence on social media and other online platforms.
Here are a few ways that off-page SEO can be relevant to a construction company's website:
Building backlinks: this can help to improve your website's credibility and search engine ranking, as search engines view backlinks as a sign of trust. You can build backlinks by creating high-quality content that other websites want to link to, or by reaching out to other websites and asking them to link to your website.
Local SEO: If your construction company serves has target customers in a specific geographic area, then local SEO will be an important part of your off-page SEO strategy. This involves optimizing your website and online presence, in places like Google My Business, to rank higher in search results for specific locations. This can be achieved through tactics like building citations (mentions of your business on other websites), getting listed in local online directories, and building backlinks from local websites.
Our SEO Services
Through SEO we can position your construction company as a top choice for customers.
This is because, as a construction marketing agency, we specialise in developing SEO strategies for construction companies and have many years of experience helping our customers to increase the number of quality organic leads, online visibility and engagement.
As a full-service marketing agency, we have an 80-strong team of experts in online marketing, PPC, SEO and content writing so we can help you at every stage of your business' growth.
In an increasingly changing world with regularly updated search algorithms, one size certainly doesn't fit all when it comes to SEO. We have a host of bespoke search engine optimisation packages available and can support with a variety of different services including:
Creating an exclusive high-quality SEO marketing plan
Completing in-depth and comprehensive keyword research
Conducting thorough competitor research and analysis
Monitoring website backlinks and page load speeds
Local SEO for capturing the most relevant traffic
SEO content marketing
Web design for perfect technical SEO
Our team also produce monthly SEO performance reports so that we can help to track the results of your campaign and alter our strategy to make sure that we meet your goals and objectives, increasing online brand awareness and boosting your search engine ranking.
Whether you need keyword research, on-page optimisation, or link building, our team of experts has the skills and knowledge to help your business reach its potential.
Contact us today to find out how we can build and develop a search engine optimisation solution for your construction company.
Related posts