Back
Purplex has a passion for Somerset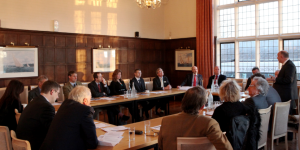 Purplex is proud to be a founder member of a powerful new business group that has taken the region by storm.
A Passion for Somerset is a not for profit company that represents the whole of Somerset, giving businesses a voice and finally bringing the disparate towns together with one united voice.
It launched at the start of the year with a powerful round-table that brought together the region's top business people for a debate at Taunton School.
Further debates and events have been held since and the group has received the backing of many business leaders in the region.
Adi Day comments: "A Passion for Somerset is what the region has been crying out for. A business voice that speaks for the whole region and is run by business people for business people; and with real teeth.
"We have built the holding website for the group and helped them with marketing, political engagement and PR. The results really have been phenomenal and captured the imagination of the region."
Purplex helped to pen a letter to the Prime Minister asking for action over the floods; secure PR coverage regionally and design a website and brochure.
Law firm Pardoes Solicitors LLP are the group's founders along with Purplex.
This entry was posted in Purplex News