Back
Purplex showcase latest marketing techniques at industry trade show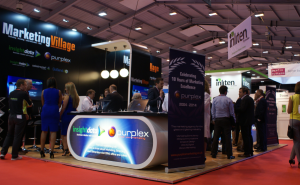 Purplex hosted a unique Marketing Village feature at this year's FIT (Fabricator, Installer, Trade) show between 10-12th June. The purpose of the Marketing Village was to provide visitors to the show with the latest developments and technological advances in the world of marketing and PR.
Hundreds of visitors flocked to the stand benefiting from the expertise of Purplex's multi-channel marketing team. They were able to take advantage of a free marketing review on the day, in one of the private meeting pods provided and the team were kept busy with back to back meetings throughout the show.
Purplex MD, Andrew Scott, commented on the success of the event; "We are delighted to have provided such a valuable resource to the FIT Show visitors. The event has been a resounding accomplishment to our dedicated team, in fact we've never had so many leads to follow up from one exhibition"
Purplex also celebrated their tenth birthday party in style at the show with a party on the first night of the exhibition. Customers, potential new clients and the trade press we're able to let their hair down and enjoy a glass of bubbly and a cake, courtesy of the Purplex team.
There was a buzz on Twitter, with visitors to the show keen to comment on the Marketing Village a selection of comments are detailed below:
Purplex are a full-service marketing and PR agency based in the South West with a strong client base in the local area, nationally and overseas. The highly skilled team provide a range of marketing services from full strategic marketing and PR plans to one off direct marketing, website design or literature.
This entry was posted in Purplex News