Back
Purplex to go global with Caldwell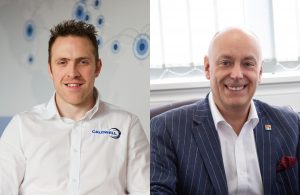 Window and door industry giant Caldwell has appointed Purplex to take over its global social media.
The global manufacturer of specialist hardware has strengthened its partnership with the leading full-service marketing agency in the fenestration industry, having worked together for the last seven years.
Purplex will be streamlining and uniting the social media across all three different Caldwell locations – the US, the UK and India. Purplex is also working with Caldwell on a brand-new e-commerce website.
When Caldwell, who started life in New York 130 years ago, acquired Cotswold Architectural Products, they were so impressed with the work Purplex had been doing for the British supplier of friction stays since 2011 that they chose them to unite their global operations under one uniform brand identity to use on an international scale.
The global social media move will continue what has proved an invaluable link up between the two companies.
Tim Ferkin, Caldwell's Market Development Director, said: "We have been hugely impressed with Purplex's industry knowledge and digital and social media expertise, and handing over our global social media to them is the right move. We know Purplex will get Caldwell's global message out to the right people and take the company even further forward."
Andrew Scott, Purplex's MD, commented: "We are absolutely delighted to be taking over Caldwell's global social media and are excited to be working across all three continents on a global strategy to merge all three channels.
After working with Caldwell since 2014 it's a huge vote of confidence not only for the work we have done but also the relationship we have built up that such a huge American company has appointed us to merge their social media across three channels."
Andrew Scott is one of Britain's leading marketing experts who has acquired, built, and sold several successfully companies in the industry, including manufacturers, distributors, and retail businesses. A renowned speaker on business and marketing strategy, Andrew advises some of the biggest names in the industry. He is the founder and MD of Purplex Marketing and Insight Data.
This entry was posted in Digital Marketing, Marketing Strategy, Purplex News