Back
Reddish Joinery join the Purplex Marketing machine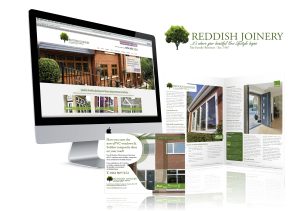 Ladies and Gentlemen, we're over half way through 2014 and the economy has finally roared back into life.
Consumer spending is back to pre-recession levels, the country is getting back on track, and like many businesses, Reddish Joinery in Stockport decided now was the time to grow. Lee Parrott from Reddish comments on how Purplex are helping them:
"When the Purplex team arrived, I immediately knew I was dealing with a highly professional organisation and this hasn't changed. Purplex understand the value of a strong brand, and know how to generate leads around it for the best return on investment."
The Purplex '3 pronged attack' began with branding – creating the Reddish brochure, a beautiful new website and high quality literature. Next was a continuous direct marketing strategy with a personalised drop-card service around installations proving highly effective, alongside monthly email marketing campaigns to the trade. The third angle is online marketing – pay-per-click, social media, SEO, content marketing etc. all designed to position the Reddish Joinery website as the hub of all marketing activity. This strategy has proved highly lucrative, and is continuously driving high quality enquiries to the business.
As the relationship with Reddish continues, the Reddish brand is growing from strength to strength and the leads are flowing ever faster.
This entry was posted in Purplex News