Back
What are the benefits of Google My Business?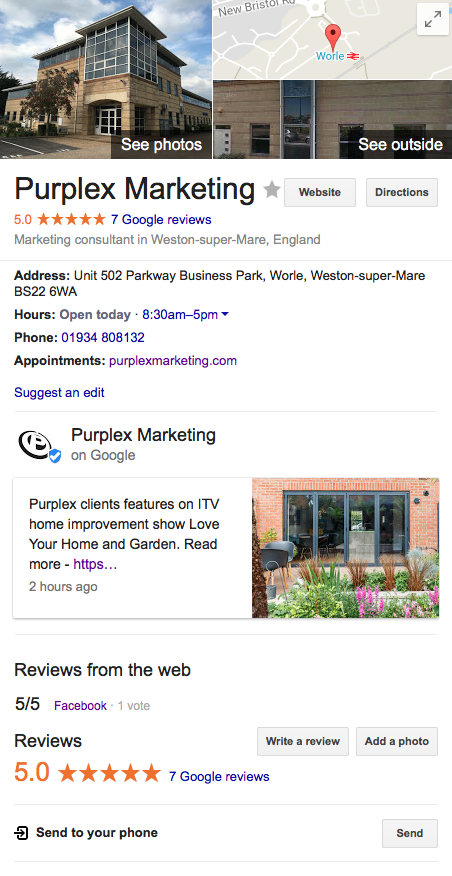 Why is Google My Business so essential? What are the benefits?
It's a free in-search display ad for your business
Google My Business is a free way of improving your local rankings and getting your key business information in front of potential customers.
The info that's displayed are your:
Contact information
Address
Reviews
Opening hours
It'll show up on search as pictured. You will also want to include at least 3 images of your business, product or service along with your logo.
But there are a lot more reasons to have a GMB
You'll get benefits of a ranking boost in local search, local pack (that's the map view) and having all the above info displayed to searchers.
Why doesn't my business already show up on maps? You need to claim your Google my business
To feature, you will have to claim your business and go through a verification process to determine the physical address and legitimacy of your business. Google will send a postcard with a PIN to your business's physical location. Then you'll simply log in and enter the PIN to verify your business; Simple!
What about Google reviews? Do they help my rankings? Can I delete bad ones?
Reviews are important
Now more than ever, reviews are an important part of the customer acquisition process. Comparison culture is part of commerce now and 92% of customers look at online reviews (with 62% looking specifically at Google reviews).
On Google, the star rating is a prominent feature, highlighting people's past experience of your company. It is essential to reply to these reviews, be they positive or negative, as this shows you care about your customers and your business image.
In fact, 53% of consumers expect businesses to respond to a review within a week! Furthermore, Google states that the better the reviews, the better ranking the business will receive when compared to local businesses in the same area.
This is really an algorithmic reflection of changing attitudes: according to Bright Local, 84 percent of people trust online reviews as much as a personal recommendation, and seven out of ten customers will leave a review for a business if asked by the business. So why not ask your customers if they can leave you a review?
No – you can't usually delete them
There is an appeal system for reviews that are determined to be malicious in intent or factually incorrect, but generally, a bad review is considered to be a natural consequence of an unhappy customer – and not something to be swept under the rug. Provide a great service or product and you'll be fine!
Social Media – Google my business vs Facebook is the wrong way to think about it.
Google My Business links to all of the social media platforms that you use, giving the audience a quick insight into the content which you post and the images that you use.
Social media and GMB are meant to be used synergistically.
In Summary
A GMB profile is a non-negotiable must for any local business. For a non-local one, not having a GMB is more or less just as foolish – putting off potential customers and signalling that you belong in the stone age. There are many other considerations attendant on how to best optimise a GMB profile, but they're for another blog.
We can help
To find out how we can help you make the most of Google My Business, feel free to call a member of our team on 01934808132 or send us a message online today.
This entry was posted in Digital Marketing, Marketing Strategy