Back
And the winner of Purplex's BuildOn brick competition is…
Purplex made their presence known at this year's FIT Show by tasking attendees to hazard a guess at how many Lego® bricks were used to make their bespoke BuildOn window cross section.
The competition ended up being a runaway success with over 1,000 guesses being entered, drawing in crowds of installers and fabricators who each placed their guess. Coming out on top however was none other than Steve Gane, installation manager of Team Frames Trade and Retail who specialise in the installation of many double glazing products such as bifold doors and roof lanterns.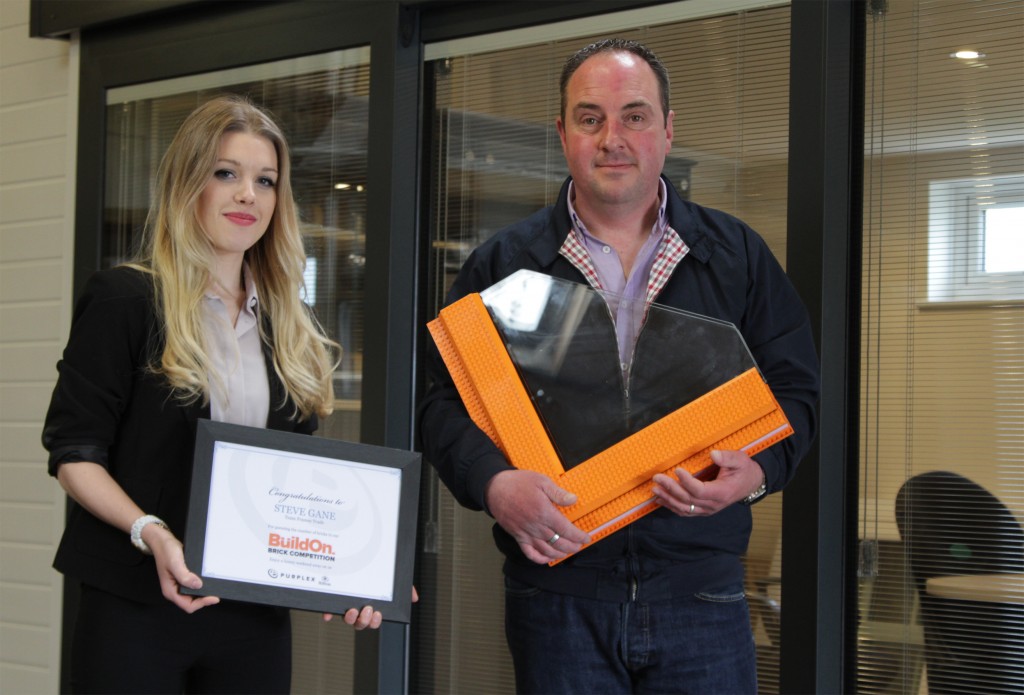 Steve's guess of 2,955 was remarkably close to the total amount of 2,958 missing by only 3 bricks, beating over 1,000 other entries made during the FIT Show that included directors Sharon and Rob Bignall, who despite their best efforts, weren't as close!
To celebrate Steve's success, Purplex recently visited Team Frames Trade and Retail's HQ in Surrey, presenting him with a prestigious winner's certificate and luxury prize of a weekend away in a Hilton hotel for both him and a loved one. Steve was elated with the competition's result and when asked how he felt about his win he expressed: "I studied the window and made a calculated guess, but never expected to get so close. I was delighted when Purplex contacted me to say I'd won – I'm really looking forward to the weekend away."
Purplex launched their BuildOn.Different campaign in February of this year in the hope of highlighting how important it is for companies to stand out from their competition, building upon their current successes to remain innovative and flexible in such a modern, fast-paced market.
Purplex account director Sam Cross explained why it's more important than ever to be different in your marketing: "Customers today are swamped with more marketing messages and content than ever before; from TV to mobiles, magazines to emails, in today's modern world it's becoming increasingly challenging to have an impact. It's for reasons like this that marketing has to be more effective than ever, and the key to this is standing out – be different and build on."
Launched in 2004, Purplex is one of the largest marketing agencies in the construction industry, with 45 staff specialising in PR, branding and design, web development, digital marketing and video. Based just outside of Bristol, the firm recently opened a new London office and has clients across the UK, Europe and North America.
For more information call Purplex on 01934 808132 or contact us below.
This entry was posted in Purplex News