Back
Prefabrication and Passive House are the emerging trends in construction right now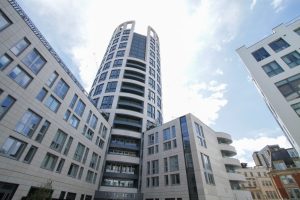 Keeping construction costs down is currently one of the main concerns, as developers and contractors are looking to protect their margins while remaining competitive, shows an in-house market analysis from Purplex, the leading full service marketing agency for the building products and construction industry.
This is why market share for the off-site construction of buildings, building elements, and structures, is currently growing by 25% per year, according to the Buildoffsite organisation.
"When volumes justify it, prefabrication is a great way to save costs and time," said Andrew Scott, MD of Purplex Marketing. He added: "Increasing efficiency on site minimises expenditure, which is why this sector, currently accounting for c. 2% of the construction industry, is rapidly gaining momentum.
"The way building products and materials are delivered to site is changing due to a stringent need to streamline construction processes on site and improve schedules, and it's important for manufacturers in our industry to adapt their production to accommodate this growing trend, and future-proof their businesses," added Andrew.
There is also a strong move towards the Passive House (or Passivhaus) standard, due to increased consumer demand for sustainable homes, as well as end-user requirements for low and zero carbon commercial buildings. With the Passive House standard no longer being limited to the domestic market, there is a strong need for innovation and development in the building products sector, as building envelopes are having to meet even more stringent energy ratings.
Andrew commented: "UK manufacturers active in the construction industry have a great opportunity right now to capitalise on the sustainable building trend. There is a lot of business growth that can be achieved, and many companies are already prepared with a product offering that can meet the stringent demands for energy efficiency imposed by Passive House, but they need to let the market know.
"This is the kind of opportunity that enables companies to become market leaders, and Purplex can help. Market awareness and strategic positioning are paramount for construction firms that really want to stay ahead of the curve, and differentiate themselves.
"With 50 specialists in all marketing disciplines, and 12 years' experience across the building products, property, construction, and home improvement sectors, Purplex helps companies increase their commercial advantages and become leaders in their niche," added Andrew.
Check out our top tips for construction marketing
This entry was posted in Marketing Strategy, Purplex News